Bulldogs Advance in State Tournament, Girls Season Ends
Originally Published: February 21, 2017 10:49 a.m.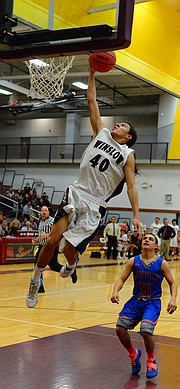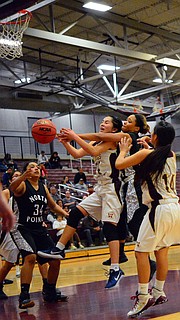 WINSLOW, Ariz. — The Winslow Bulldogs advanced in the Arizona State 3A Conference Championship Tournament with a 50-32 win over the Show Low Cougars in Eagar on Feb. 18. The win was the second in four games with the Cougars and left Winslow with a 24-9 record. The Lady Bulldogs saw their season end with a 47-39 loss to Holbrook.
In their win over Show Low, the Bulldogs, playing one of their best games of the season, took a 12-7 first quarter lead and never looked back. The margin had increased to 23-10 at the half and a commanding 20 point lead of 43-23 at the end of three quarters.
Junior Villanueva led all scorers with 18 points for Winslow. Yoaan Djassa was also in double figures for the Bulldogs with 10 points. Trent Williams led Show Low with 12 points and was the only Cougar in double figures.
The Bulldogs were to play the Valley Christian Trojans in Prescott Feb. 21 in their quest for a championship. The Trojans have a 25-3 record and defeated the Globe Tigers 66-47 in their last game to reach the quarterfinals of the state tournament.
In their season ending loss to Holbrook, the Lady Bulldogs were defeated by the Holbrook Lady Roadrunners 47-39 in the Arizona State 3A Conference Championship Tournament Feb. 17 in Window Rock. The win earned the Lady Roadrunners a berth in the semifinals Feb. 20. Winslow's season ended with a 19-11 record. Holbrook improved to 20-4.
The Roadrunners had a slim 9-8 lead after the first quarter but had built a 20-11 lead by the halftime. The lead was 34-26 after three quarter of play. Justine Butterfield of Winslow was the high point player of the game with 14 points and was only one of two players in double figures. Dakota Dick led Holbrook and was the only Lady Roadrunner in double figures. Madison Chappell tallied nine for the victorious Lady Roadrunners.
SUBMIT FEEDBACK
Click Below to:
More like this story