Moencopi and Tuba City endorse culture and traditions for students
Originally Published: February 7, 2017 10:08 a.m.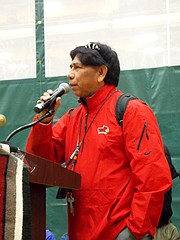 TUBA CITY, Ariz. — Tuba City Unified School District held its annual district-wide cultural symposium for more than 500 staff members who work to benefit kindergarten through 12th grade students in Tuba City and two neighboring Moencopi Village areas.
The "Hozhoogo Iina Bee Na'nitin," one-day conference allows the staff and community to share cultural language and practices that honor, support and endorse the importance of respecting and implementing Native language, Native traditional ideology and practices in daily classroom lessons for students.
Dr. Harold Begay, Tuba City Unified School District (TCUSD) superintendent, said in a conference pamphlet that Native language loss is well-documented, not only globally but also locally.
"While documentation on a most profound humanitarian public health issue are immensely invaluable, what appears to be particularly striking is that there seems to be an inverse relationship between the increasingly scholarly publications on Native American language loss and actual language loss among Native peoples," Begay said. "That is, while there is a consistent upward slope over the years of publications on Native people's language loss and conference, we see a downward slope on actual Native people's language use."
Begay said that if the trend continues unabated, there will be a complete Native language loss in a very short period of time — accomplishing successfully what U.S. policy and practice has been unable to accomplish since the 1600s regarding Native heritage, language and identity.
"Any language teaching and reinforcement begins and ends in the home, within a family," Begay said. "The educational entity can only play a partial role to supplement and not supplant the profound importance of the home and the family dinner table conversation and values."
The Tuba City Unified School District has, for the past 20 years through its philosophy and mission, tried to showcase Diné and Hopi language and cultural studies programs for its students, with a culture friendly learning re-design and initiative intended to empower its students so that they will have an applied knowledge base critical to a meaningful education and a quality of life.

TCUSD believes that by reaching out to the local community, embracing community cultural wisdom and values, that its own Indigenous Heritage Language and Cultural Studies revamp will promote harmonious educational growth.

The intent of the TCUSD Native Studies program is to broaden current mainstream educational programs so that students can benefit from a more inclusive educational menu for more meaningful education for themselves.

This approach has shown much success in empowering, promoting and revitalizing core traditional indigenous Native community values and wisdom for healthy growth and development.
Starting with breakfast at Tuba City High School Warrior Pavilion, the day kicked off with a keynote address by Bennie Silversmith, who is considered a traditional practitioner and scholar. Silversmith is from the community of Oak Springs, south of Window Rock, and served in the Vietnam War.
"I grew up speaking only Navajo, I didn't learn English until I was about 9 years old and was sent off to school," Silvermith said. "I love to hear our language, its so beautiful. But I'm afraid we are losing our language and I hope that our family members and our teachers in our reservation area schools encourage their students to speak and use the language every single day in conversation and their classroom lessons.
Silversmith said there are ways that make it easier to learn to speak Navajo.
"I think one of the ways that you can learn how to speak Navajo is to sing it," he said. "It makes the phrases easier to remember. I am very pleased to be here today to encourage all of you to speak Navajo, keep it up, it is who we are."

Silversmith spoke about the "Traditional Foundation of the Home," by sharing shared his lifetime sense of direction and sense of belonging for Natives and how it enables Natives to determine their way of life and their own personal destiny.

He related how this specific sense of direction and responsibility to one's home is directly related to the responsibility to active learning and daily discipline and respect for the world and its environment.
Conference breakout work sessions were offered throughout the day with both male and female presenters who specialized in Native traditional teachings of varied areas.

Topics offered for the staff and community members to attend included presenter Elroy Watson "Hodza, Hojiya, Ha'ahwiinit'I (Traditional parenting values for home and classroom), Arvis Myron, Hopi Lavaiiye teacher at TCHS "Introduction to Hopilavayi writing System," Dimitriy Neezhoni, "Dept. of Dine' Education Language Acquisition, Patrick Boone, "Traditonal Sweatlodge Story and Teachings," Raymond Jim Redhouse "How our Daily Ives associate with the Seasons," Barbara Begay, "Navajo Tradition and Modern Education," Fred Johnson, To Bee Iina "Water is Life," Ed Little "Diné Philosophy of Natural World and Traditional Hogan teachings," Milton Chee "Basic Understandings of Dine natural Law," and Charletta James, "Traditional Aspects of Saanii Bina'nitin (traditional way of child raising).
During the morning presentation before the breakout sessions, Hopi Lavayi language instructor Arvis Myron, Hopi tribal member from Moencopi Village gave some statistics on a Hopi language course that is only offered at Tuba City High School for both reservations.
Myron said Tuba City High School is the only high school that offers Hopi language as one of its core subject areas every single school day for 70 minutes. At the Tuba City District junior high level, it is offered for 30 full minutes.

Myron says Tuba City High is the only school to do this, not even Hopi High, located on the Hopi Reservation, offers this amount of time devoted to tribal language.

Hopi High currently offers Hopi language twice a week for its student population.

All of the traditional Native areas discussed at the conference were meant to help the staff to incorporate some of their daily lesson planning that considers the importance and significance of traditional Native community knowledge blended with daily state required academic core curriculum — that the two ideals can be successful partners teaching the "Whole Child."
According to the TCUSD cultural program's goals, designs and strategy, the district-wide Native Studies program will then be able to transform cultural education that will allow a child to know who they are, what they are expected to do, in what way and how to relate themselves to the kinship structure and neighborhood.
SUBMIT FEEDBACK
Click Below to:
More like this story