Originally Published: December 26, 2017 10 a.m.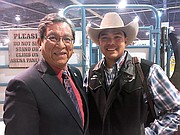 Erich Rogers, a Navajo tribal member, along with his heeler Cory Petska claimed the title of 2017 World Champion Team Ropers at the 2017 National Finals Rodeo (NFR) in Las Vegas, Nevada Dec. 16.
Navajo Nation President Russell Begaye and Vice President Jonathan Nez congratulated Rogers and Petska after their win in Las Vegas.
"Erich Rogers' victory goes to show you that Navajos can compete at the world-class level and win," Begaye said. "As leaders, we are pleased to support all of our athletes and with each achievement, they are clearing the path for future generations to succeed."
The NFR showcases the best of the best and telecasts to millions of households on CBS Sports Network. There are 10 rounds on 10 consecutive days.
The event is held each year at the Thomas & Mack Center in Las Vegas.
This year each contestant competed from Dec. 7-16. By the end of the event, the team with the most money earned over the course of the year won the title of World Champion.
"The Navajo Nation is full of great talent and this shows the diversity of the Navajo athlete," Nez said. "We look forward to seeing more in the future, and congratulations to Erich Rogers and Cory Petska."
Rogers' is from Round Rock, Arizona and inherited his work ethic and rodeo talents from his family.
Last year, Rogers finished fifth in the world standings with earnings of $189,185. Among the 2017 highlight wins, was the Southwestern Exposition and Livestock Show in Fort Worth, Texas, the Big Sky Pro Rodeo Roundup in Great Falls, Montana and the Sheridan Rodeo in Sheridan, Wyoming.
Rogers and Petska have been among the top of the world standings since the beginning of 2017. Upon entering the NFR, Rogers was in second place, with only $265 behind frontrunner Kaleb Driggers. Top competition at the event included Driggers, Clay Smith and Luke Brown.
Rogers was the sole member of the Navajo Nation to make it to the NFR — this year.