Students build roller coasters, study astronomy with Arizona Science Center
Originally Published: December 26, 2017 10:15 a.m.
PHOENIX — The Holbrook STEM extravaganza Nov. 21, encompassed a day of events activities at both Park Elementary School (K-2) and Hulet Elementary School.
The entire student body at both schools spent the day immersed in science and technology, with eight staff members from Arizona Science Center leading the students in rotational STEM activities. Students built roller coasters, studied astronomy with Arizona Science Center's mobile planetarium and learned about weather, engineering, combustion and robots.
For five years, the APS Foundation has partnered with Arizona Science Center to improve rural Arizona education in the STEM subjects of science, technology, engineering and math.
In June 2017, the APS Foundation awarded a $180,000 grant to Arizona Science Center's Rural Communities Expansion Project to implement professional development for K-8 teachers throughout Arizona during the 2017-18 school year.
This is the first year Holbrook Unified School District took part in the program, and on Dec. 1, Arizona Science Center kicked it off with a day of 6 hands-on STEM (science, technology, engineering and math) activities, also known as a STEM Extravaganza.
"Our goal with this program is to arm teachers and faculty with the skills needed to encourage and inspire students to explore STEM in communities that would otherwise not have this opportunity," said Beth Nickel, chief learning officer at Arizona Science Center. "That is why our program's expansion into Holbrook schools is such a reason to celebrate. The STEM Extravaganza is a great way to get students and faculty excited and ready to dive deep into STEM."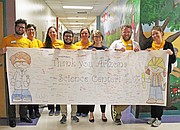 The Rural Communities Expansion Project was first launched by Arizona Science Center in 2012 to provide STEM professional development opportunities to K-8 teachers in rural Arizona schools — something that had been clearly lacking.
Since its inception, the APS Foundation has granted over $1.4 million to this program. The project brings Arizona Science Center staff into schools around the state to deliver tailored professional development programs for teachers, training for administrators, and hands-on STEM programs for students.
"We started the APS grant initiative in northern Arizona. It was word of mouth from participating teachers about the program's positive impact that got us connected with Holbrook," said Dr. Rob Robertson, Senior vice president of Learning Partnerships and Operations at Arizona Science Center. "We are working with the district to customize our programming to meet the specific needs of their English-language-learner population and support the district's overall STEM initiatives. It promises to be a win-win for all of us."
SUBMIT FEEDBACK
Click Below to: