Hopi High students learn history of Phoenix Indian School
Originally Published: December 26, 2017 10:09 a.m.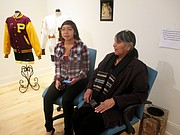 PHOENIX — Phoenix Indian School (PIS) brings up a lot of different feelings for those who went there. Some recall not being allowed to practice their Native culture or speak their Native language.
Some recall forced child labor working in a laundry in the hot Phoenix summer without any air conditioning. Many students were forcibly taken away from their families to attend PIS.
But some remember good times either in the many games the basketball team won or the music program the school gained a reputation for producing. Then, there is also the friends that many made.
The PIS Center is now the most active building on the site where the school has been closed since 1990. The visitor center has a museum of the school's basketball trophies and school regalia. The three buildings on the site are operated by Native American Connections and Phoenix Indian Center.
Phillip Galaviz, who serves as director of facilities for Phoenix Indian School Center, gave the Hopi High media students a tour of the building.
"It was communism. They told the students what to watch and what to eat," he said about the old days at Phoenix Indian School.
Perci Ami, who is Hopi, came to the school as an eighth grader. She thought the Hopi and Navajo tribes were the only tribes. She quickly learned differently as there were four girls in the dorm room and those in her room were all from different tribes.
"Phoenix Indian High School is part of my life history," she said. "There was good and bad, but it was part of my past."
Ami said there were Indian schools throughout the U.S. She said initially when she was sent to Phoenix Indian School, she didn't know where she was going.
One time she ran away. She didn't know Phoenix and she had no money so a couple days later she returned. When she came back, she thought she was going to be punished, but nobody noticed that she was missing.
"Nobody looked for us. It was like we didn't exist," Ami said.
Ami is glad that Native American Connections is preserving three of the buildings from Phoenix Indian School. She said a lot of influential Native Americans attended Phoenix Indian School.
John Bull Shows, who attended Phoenix Indian School (PIS), said when he arrived at PIS he was homesick, but as soon as he started playing sports, he forgot about home. He came from the Crow Reservation in Montana and didn't hear much from home. He noticed that Hopi Tribe was the lone tribe to check on its students.
After PIS closed in 1990, the city of Phoenix acquired the land and turned the campus into Steele Park. Bull Shows was not happy with the name change because there is so much history that goes with the school name. However, Bull Shows said he is happy that the city saved three of PIS buildings, which are all on the National Register of Historic Places.
One of the buildings, Memorial Hall, is open today for rentals and special events. The dining hall remains vacant.
Bull Shows said there are many homeless people who come to the park and many stay overnight. He just wishes they would clean up after themselves.
Ginger Meadows, who attended PIS as an exchange student from Massachusetts, said PIS was the best times of her life because of the friends she made. One of the Hopi students invited her to a Bean Dance on the Hopi Reservation where she had a grand time.
Meadows said it was sad the city obtained the land rather than the Arizona tribes.
"To me, it was their property," she said.
Meadows was also upset with the name change from PIS to Steele Park.
"I know he paid money to develop the property, but he wasn't a student here," she said about Steele.
The meaning of Phoenix Indian School to the students who went there was not lost on the Hopi High media students.
Ellsye Fredericks, a print journalism student at Hopi High, said PIS was interesting as she loved the stories that speakers had about their experience at the school.
"The speakers were students who attended the school when they were younger. Hearing their stories opened my eyes," she said.
Phoenix Boarding School timeline
• 1875, the federal government determined it had an Indian problem. Civil war veteran Richard Henry Pratt establishes the Indian boarding school system.
• 1879, Carlisle Indian School in Pennsylvania opened and assimilation — speaking only English and getting rid of traditional clothing, hair styles and traditional religion began.
• 1891, Phoenix Indian Industrial School opened. Students farmed the land, growing their own food and raising farm animals. Students stayed at the school year-round. Many were hired in local homes as domestic help during the summer. Boys were taught mechanics, carpentry and printing. Girls were taught domestic skills. Higher education was not encouraged.
• 1912, the well-known Phoenix Indian School Band played at the statehood ceremony.
• 1914, World War I broke out and many students enlisted. Memorial Hall was built to honor the students who served and died in the war.
• 1941, World War II began and many students enlisted in the military. Some former students became Navajo and Hopi Codetalkers during World War II. Ira Hayes, one of the men who raised the flag at Iwo Jima, graduated from Phoenix Indian School.
• 1980s, the enrollment at Phoenix Indian School declines after tribes begin building schools on tribal lands.
• 1990, the final class graduates from Phoenix Indian School and the school closes. Through a land swap, the city of Phoenix acquires the land and the campus becomes a park, only three buildings are saved.
Noteable graduates
Tribal leaders Peterson Zah from the Navajo Nation, Ivan Sidney from the Hopi tribe, Clinton Pattea from Fort McDowell Delia Carlyle from Ak—Chin. Renowned artists include Delbridge Honanie from the Hopi Tribe.
Donations are accepted to help with gallery and operations at the visitor center. Make checks payable to Native American Connections for the Phoenix Indian School Visitor Center.
SUBMIT FEEDBACK
Click Below to:
More like this story