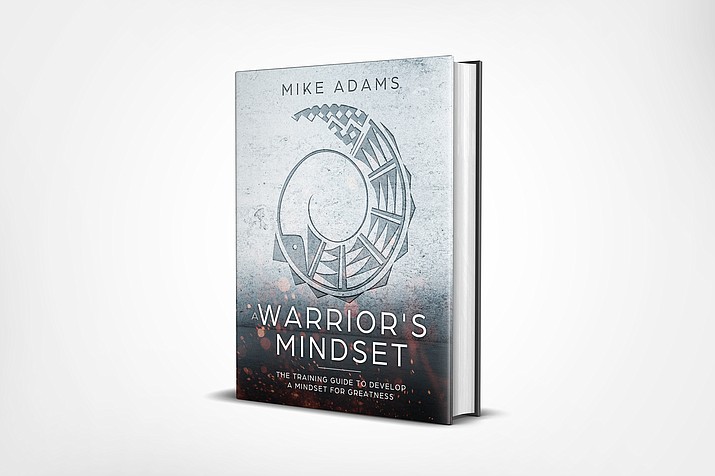 Originally Published: December 19, 2017 9:57 a.m.
FLAGSTAFF, Ariz. — Michael Adams' "A Warrior Mindset: The Training Guide to Develop a Mindset for Greatness," offers a lens for people to explore themselves using inspirational quotes from successful people.
Adams' inspiration for writing the book came from a former counselor, who worked on the Navajo and Hopi reservations for the past five or six years. Adams said he has heard hundreds of stories from students who described their circumstances in their life and their struggles.
Through talking to the students and working with them, Adams realized the problem is not a small one. "A Warrior's Mindset" was created primarily for those students.
"There are a huge amount of students who just need a shift," Adams said. "A shift to learn how to view your circumstances as strength, as ways in which you can build yourself up and the difficulties in life are there for a reason. Having them change their perspective, that is my hope for the book."
Adams said those who go through the practice of the book, following the quotes with action, will notice a shift in how they are viewing the world.
"The book has you reflect on quotes that highlight what a warrior's mindset it," Adams said. "And how to cultivate your greatness. That is what I fully believe, every person has a greatness inside them and it's just hiding beneath the excuses and reasons and various things."
Adams shares that message with students across the reservations and said he believes in the students until they can believe in themselves.
The book is set up with a quote and questions to engage the person's mind and to show what it is that successful people are able to do and how they see the world. Most of the people who are quoted are people Adams admired and studied in the course of his own life.
"If you can get yourself to reflect and gain wisdom and adopt it, that will really get you to a place of feeling good about yourself knowing that things have shifted," Adams said.
As a personal goal, Adams wants to speak to as many Native students across the country as he can. He realizes there are not enough strong speakers with an indigenous descent.
"I enjoy speaking," he said. "I love bringing my energy center stage. I am a storyteller. It is an easy way to absorb information without being so critical. We need more role models."
He said the ability to communicate and express oneself holds a lot of power and he wants young Native students to know that they can develop that capacity within themselves.
"Your ability to express yourself can be very powerful," Adams said. "And you do have a voice to share."
Adams has worked at Hopi High School and has the opportunity to work as an administrator too. He said that perspective is valuable and enlightening, too. He has worked to plan events to try and change the environment of the school as well. He said it is not surprising to see reservation school struggling academically because of social, personal and drug issues.
"And so the environment really plays a huge factor in part of growing these seeds, which are the students," Adams said. "Are we growing seeds in a very nurturing environment or are we growing these seeds and not giving them any care or only taking are of a certain few."
Adams said he really began to see how schools play a pivotal role in developing a culture in their school that helps the success and the mindset of students.
He said recently Hopi Jr./Sr. High School put on a youth summit, which was basically a professional conference where students were treated like a professional for one day with a curriculum that was slated toward what the students wanted to learn.
"My emphasis has always been, 'How can we treat the students as our best customer?' and really getting that mindset into employees who interact directly with students," Adams said.
Adams said the struggle for students can sometimes come from their struggles with living in the culture and the outside world. Adams has struggled with that himself. He said that it is possible to succeed despite the circumstance of growing up as Native people and living among a more modern society.
"It all starts with the thing that every single person has in common, which is their mind," he said. "The whole reason any person goes from the rags to riches story, we all have our mindset and sometimes our beliefs, which are to me, the doorway to opportunity. If we have so many beliefs that are closed, and if people keep us shut down and keep us scared and living in fear, we never get to express our true selves."
That is why Adams believes the book is so important for the youth today.
"For me, I teach students about how important it is to shift their beliefs and that all kind of gets wrapped up in changing their mindset," Adams said.