Piestewa family hosts Navajo Hopi Honor Riders for holiday party
Originally Published: December 12, 2017 10:10 a.m.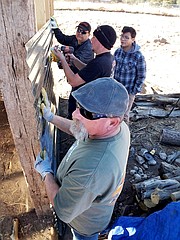 FLAGSTAFF, Ariz. — On Dec, 10, the Navajo Hopi Honor Riders got together for the annual Christmas party at the residence of Percy Piestewa, who is a Gold Star Mother.
With riders from all areas of the Navajo and Hopi reservation, the Navajo Hopi Honor Riders (NHHR) Board decided to host the event in Flagstaff beneath the sacred mountains of Dook'o'oosłííd, the San Francisco Peaks. Together, the biker family constructed a protective wood shed for the Piestewa family before cold weather sets in in the high country.
Riders of NHHR ride to honor the past and present veterans in the Southwest and there were many heartfelt messages on Saturday. It was a day to gather and be with one another with loving words of support and uplifting messages shared. A very powerful prayer by Piestewa's sister, Mary Chris Martin, set the mood as the feast began.
There were a number of donations for the day to be successful; two turkeys, beef and pork steaks were all purchased and donated by local riders for main dishes. Riders throughout the Southwest gathered as they brought a side dish and those who wanted to play the white elephant game were very energetic and full of non-stop laughter; it was quite entertaining to watch.
With just over 60 people in attendance for the Christmas party, stories were shared, games were played and the wood shelter was completed during the party.
"It fills me with pride to see our riders, our families and our friends gathering together during this season of giving to spend time together but also to help our Gold Star families. I couldn't be more proud," explained Bobby Martin, president of the riders.
Special guests included riders from Nation of Patriots and Roy Gustavson visiting from the Verde Valley area. Angeline Johnson, a community member from Shonto,
Ariz., expressed her appreciation with a beautiful photo display of veterans throughout Navajo communities, primarily from Western Agency. Through the years Johnson's unique photography display has grown with photos of past and present Veterans.
A lot of the men helped with construction and filling of the metal wood shed.
NHHR expresses their appreciation to both Home Depot locations in Flagstaff for donations of lumber and metal. Additionally, Tina Yazzie from the Home Depot in Gallup donated supplies for the wood shelter.
More information about Navajo-Hopi Honor Riders is available at www.navajohopihonorriders.com or (928) 421-1166.
SUBMIT FEEDBACK
Click Below to: