Navajo Nation mourns loss of Navajo Code Talker
Originally Published: December 12, 2017 10:01 a.m.
WINDOW ROCK —The Navajo Nation has suffered a tragic loss in the passing of George P. Willie Sr., a Navajo Code Talker, 2nd Marine Division, who served from 1943 to 1946.
According to his family, Willie passed away Dec. 5 at 9:45 a.m., at his home in Leupp, Arizona.
"I remember George P. Willie as a kind father and grandfather who held his service with pride and dignity," said Navajo Nation President Russell Begaye. "Like many of our Code Talkers, Willie enlisted into the military at a young age and went on to courageously defend our freedom and liberty as the United States of America."
Vice President Jonathan Nez said Willie's death comes at a time when the Nation is reminded of the importance of the Navajo language, and that it must be handed down and taught to our younger generations.
"The U.S. Government's use of the Navajo language saved this country during World War II," Nez said. "This is a prime example of the strength and resiliency that George P. Willie displayed. We are grateful and remember him as a man willing to stand his ground in the face of danger. We salute Navajo Code Talker Willie as a Marine, a father and as a hero to the Navajo Nation."
Navajo Nation Council Speaker LoRenzo Bates extended the condolences of the Navajo Nation Council.
Council Delegate Walter Phelps (Cameron, Coalmine Canyon, Leupp, Tolani Lake, Tsidi To ii), who represents the community of Leupp on the Council, recalled Willie as a humble person who did not seek recognition for his service as a Code Talker.
"Despite his tremendous service and sacrifice for our people, Mr. Willie never sought any type of recognition and that was a true reflection of the person he was," Phelps said. "We will honor his life and we will keep his family and loved ones in our thoughts and prayers."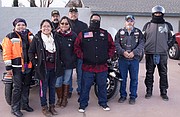 Because their service was classified by the military up until 1968, Willie, like many other Code Talkers, didn't discuss his service often. His daughter Annabelle Smallcanyon said he eventually opened up about being a Code Talker but remained a bit guarded about what he told.
"He kept to himself but after going to his first meeting with the Navajo Code Talkers, he was able to open up. I was then able to talk with him about it," she said. "Later on as people would come up to shake his hand, he would stand tall and feel proud about his service as a Code Talker."
He always stood tall to salute the flag, his daughter said.
As he grew older, Willie developed dementia, which took a toll on his health as it severely affected his sleep. Smallcanyon said Willie was released from the hospital Dec. 4 to be sent home for hospice care.
"The dementia brought him down a lot," she said.
Willie is survived by his wife Emma Jean and five of his 10 children.

"Our condolences go out to the family of Navajo Code Talker George P. Willie," Begaye said. "In his service to the U.S., he protected the great Navajo Nation. We should follow his lead in remaining vigilant toward defending our Nation. For his bravery and courage as a Navajo Code Talker, we say Semper Fi, Marine. Our thoughts and prayers are with you and your family at this time."
Willie's funeral service was held Dec. 11 at the Leupp Presbyterian Church at 10 a.m. Greers Mortuary in Winslow is handing burial arrangements. Willie's burial services will be held at the Arizona Veterans Memorial Park at Camp Navajo in Bellemont, Arizona.
SUBMIT FEEDBACK
Click Below to:
More like this story