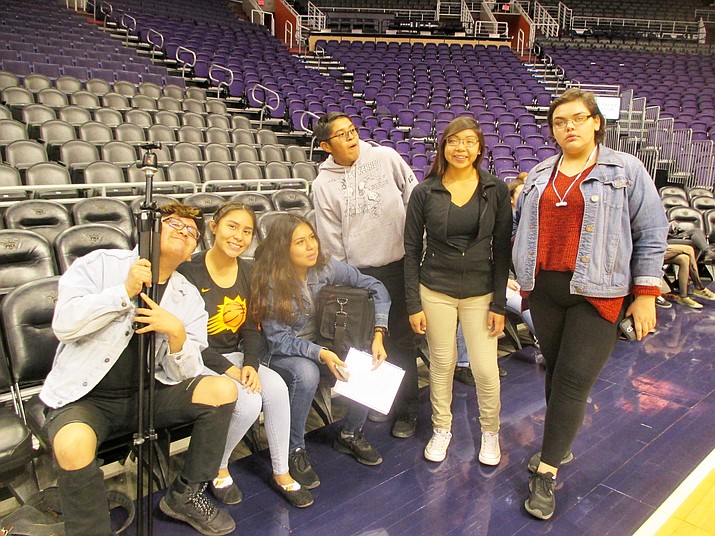 Originally Published: December 12, 2017 10:28 a.m.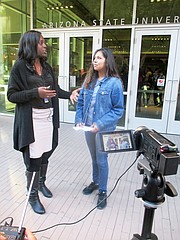 PHOENIX, Ariz. — Six Hopi High media students learned media tips while attending Phoenix Suns Journalism Night Dec. 7 at Talking Stick Resort Arena.
The six media students were Gabriel Fredericks, Ellyse Fredericks, Amber Labahe, Aidan Puhuhyesva, Cheree Jean and Hailey Kardell.
The media students also had a chance to shoot baskets on the Phoenix Suns court for about an hour. Jean and Puhuyesva sank free throws from the foul line.
Between the afternoon workshop and the evening game, the Hopi High media students toured the Arizona State University Cronkite School of Journalism.
Tom Leander and Tom Chambers, who announced the pre-game, halftime and post-game shows for the Phoenix Suns, spoke to about 100 media students from various schools about their experience.
Chambers is a former Suns all-star forward who became an announcer after he stopped playing. Leander recalled having Chambers on his show as a guest in 1997 and thought it would be great if Chambers joined him as co-host.
Chambers learned quickly that he isn't good when reading from a script, but performs much better when he's talking candidly.
Leander told the media students that they have to make the broadcast interesting. For example, instead of just saying TJ Warren scores 17 points per game, they need to put it into perspective about how much the Suns would miss him if he didn't play.
"You take a topic and you twist it around so you're asking a question," he said.
Leander said one good part of their show is when Chambers debates former Suns player Eddie Johnson.
Leander, who graduated from Loyola Marymount, said the most important skill of a good announcer is listening and then balancing information.
Leander said he had an internship at Channel 10 when he was starting out and he advises students that internships are good ways to get started. Chambers said the Phoenix Suns have internships and their producer was just a cameraman three years ago.
Leander pointed out that people now watch social media more than the evening newscasts so the news programs are using fewer reporters.
Chambers recalled the 1992-93 season when the Phoenix Suns went to the NBA finals.
"We just moved into this new building and the feeling in the city was electric," he said.
Leander recalled that even though Phoenix lost the championship to the Chicago Bulls that about 300,000 people showed up for the parade.
Chambers recalled what it was like to be on the road when he played. They would often have four games a week so they would rarely get out into the cities where they were playing. He said back then the players would have to fly commercial where today the teams have their own flights with good food on it. He said today's players have it much better.
Scott Bordow, beat writer covering the Phoenix Suns for the Arizona Republic and Az.Central online, has covered everything from the Super Bowl to the World Series to the final four. He was a reporter for the East Valley Tribune for many years, but when it folded the Arizona Republic created a position for him.
As the beat writer covering the Suns, he covers all 82 games. He said covering their recent 12 day road trip was brutal, but it comes with the jobs that he loves. He has been in the business 35 years.
"I feel fortunate and blessed," he said. "If you're in journalism for the money, you should change your profession. I love what I do because no two days are the same."
Bordow said "if you want to be home for 5 p.m. dinner this job is not for you. You work nights and weekends."
Bordow said sports journalists have to have thick skin because they are going to write articles that coaches and players don't like. One professional athlete threatened Bordow and one student athlete threated to burn his house down.
NBA photographer Barry Gossage and Suns Marketing Director Stephen Kargol said students need to find their way to overcome shyness if they are going to become broadcasters.
Gossage said he overcame his fear of public speaking by singing karaoke. He said it's important to find a way to become comfortable speaking in public.
After the students heard Gossage liked karaoke, they asked him to belt out a tune so he sung a couple lines from Billy Idol's "Hey Little Sister." They gave him a nice round of applause.
Gossage and Kargol also work the concerts at Talking Stick Resort Arena. Gossage said he loved the Foo Fighters because he loves their music and they move around a lot. He said Eric Clapton is a great musician but doesn't move around a lot.
Gossage also owns his own photography studio down the street from the arena and loves to photograph hot rods.
When Gossage started photographing NBA, he became friends with Shaquille O'Neill because it was the rookie season for both of them.
He said an important part of a photographer's job is the ability to talk to and direct people.
Kargol and Gossage work closely together. Gossage takes the photos and Kargol puts it up on social media.