Bears Ears monument downsized, tribes file lawsuit
Navajo Nation, Hopi and other Native tribes challenge Trump's decision to downsize Bears Ears National Monument; file lawsuit
Originally Published: December 12, 2017 10:11 a.m.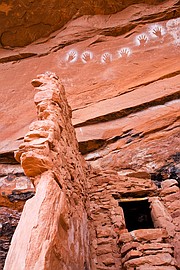 On Dec. 4, the Navajo Nation joined the Hopi Tribe, Zuni Tribe, Ute Indian Tribe and Ute Mountain Ute Indian Tribe and filed a legal challenge against the Trump administration for its actions revoking and replacing the Bears Ears National Monument.
The action was joined by a broad coalition conservation, and historic preservation organizations, outdoor industry, scientists and outdoor recreationists, which are suing the Trump administration to strike down what they call President Donald Trump's overreach of authority in revoking the Bears Ears National Monument. 
The five tribes formed a coalition that worked to have the monument designated in 2016. President Barack Obama's decision to designate the monument came after years of extensive outreach and coordination with the five tribes, they said. The proclamation by Obama established the Bears Ears Commission to guide and provide recommendations on management of the landscape and, for the first time, traditional knowledge was honored as a resource to be protected.
Bears Ears has been home to Hopi, Navajo, Ute, Ute Mountain Ute, and Zuni people for countless generations. The national monument took more than 80 years to designate. The original proclamation by Obama acknowledges a cultural landscape rich in antiquities, with hundreds of thousands of archaeological and cultural sites sacred to dozens of tribes.
The Bears Ears Inter-Tribal Coalition said Trump's proposal to shrink the Bears Ears National Monument leaves tens of thousands of sacred sites vulnerable to looting and grave robbing — the very threats the Antiquities Act was designed to protect against — as well as to fossil fuel development and uranium mining.
The Navajo Nation's suit argues that Trump's actions are a violation of the Antiquities Act and are unconstitutional. It argues that Congress has exclusive authority to make decisions regarding property belonging to the United States. Through the Antiquities Act, Congress delegated limited authority to the president to designate national monuments and retained for itself the power to revoke or modify National Monuments.
Trump's action reduces what was an area of 1.35 million acres 85 percent. The five tribes argue that the overreach by the president should be declared unlawful and be enjoined to prevent its implementation and that Trump's proclamation ignores overwhelming public support for the original monument designation, and dishonors Native American heritage and culture.
"Trump's action came after months of tribal leaders expressing opposition to his proposal to shrink the monument," said Navajo Nation Attorney General Ethel Branch. "During these months some 685,000 comments were submitted by the public in support of the monument. Despite this outpouring of support, the president, without adequate tribal consultation, dismantled the monument and lifted protections from 85 percent of the Bears Ears landscape."
Secretary of the Interior Ryan Zinke said in his recommendation that he did consult with tribes and met with the Bears Ears Inter-Tribal Coalition in Salt Lake City in May for just under two hours. He said that he also met with tribal representatives who represent different sides of the debate during his four-day survey of the Utah monuments in May.
Navajo Nation President Russell Begay disputes whether tribes were consulted in any meaningful way.
"The Navajo Nation has made repeated requests to meet with President Trump on this issue," Begaye said. "The Bears Ears Monument is of critical importance, not only to the Navajo Nation but to many tribes in the region."
Alfred Lomahquahu, of the Hopi Tribe, said Trump's action leaves tens of thousands of historical and cultural sites vulnerable.
"The monument was already greatly reduced from what the Tribes originally requested," Lomahquahu said. "Now, without consultation and without notification, President Trump is breaking the government's promise to work with tribes to protect the homeland of our ancestors."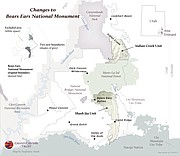 Branch added that Bears Ears has been home to Native people since time immemorial.
"The actions taken by President Trump have exposed Bears Ears to devastating damage," Branch said. "President Trump states he consulted with Native peoples, but if that were true, the five tribes would not be filing this complaint. Our leadership has been unified in its opposition to any changes to the monument and in its commitment to defending the monument."
Carleton Bowekaty, a Zuni councilman, said the president's action was taken without respect for the Native Americans that worked for decades to protect the resources in the monument.
"President Trump's illegal action is a shameful attack on Tribes, and it will not stand," Bowekaty said. "His proposal is a strong statement to tribes across the nation that Native American values and interests are not important to the Trump administration."
Zinke argued in his recommendations that removing the monument designation will not open up the area to looting and desecration.
"This is not true," Zinke said. "Whether these resources are found on land designated as a monument, national forest, BLM-managed public land, or other federal land, it is generally illegal to remove or disrupt these resources without a permit issued by the federal government."
Shaun Chapoose, of the Ute Indian Tribal Business Committee, said Bears Ears isn't just about a few artifacts in isolated locations — it is about cultures that are still here and still thriving and Trump's unilateral action only pleases a few powerful Utah politicians.
"The Bears Ears region is a cultural landscape — a place to nurture our families in our traditions," he said.
Navajo Nation Council Delegate Davis Filfred, who represents five of the seven Utah chapters, said the president's proposal is an attack on tribes.
"More than 150 years ago, the federal government removed our ancestors from Bears Ears at gunpoint and sent them on the Long Walk, but we came back," Filfred said. "[The proposal] will be remembered as equally disgraceful — but once again we will be back. We know how to persist; we know how to fight and we will fight to defend Bears Ears."
Sixteen presidents have used the Antiquities Act to designate 157 national monuments since 1906 to preserve unique and treasured places from destruction.  Trump's proclamation is the first time any president has attempted to abolish a monument established by a previous president and amounts to the largest elimination of protected areas in American history.  By revoking national monument status for 85 percent of the area protected by the Bears Ears National Monument, Trump has removed legal protections for many well-known and widely-revered historic, scientific, and cultural areas. 
SUBMIT FEEDBACK
Click Below to: