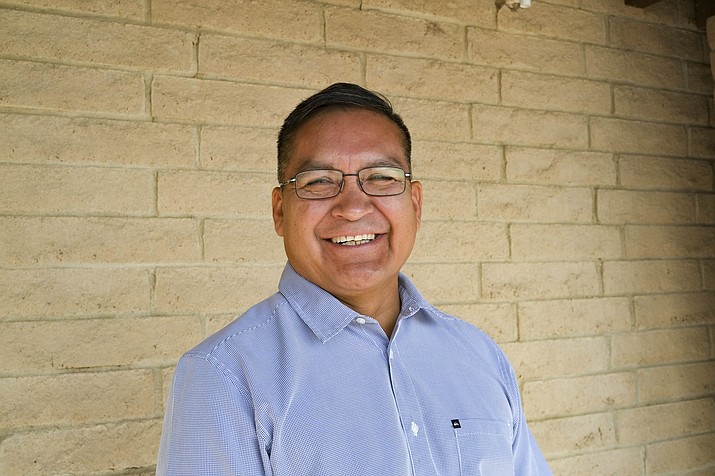 Photo by Loretta Yerian.
Originally Published: August 29, 2017 12:42 p.m.
Alfred Lomahquahu Jr. grew up in — Bacavi and Hotevilla.
Why do you feel you're a qualified candidate to run for chairman/vice chairman of the Hopi tribe?
Working with the villages gave me a lot of experience, starting with the Native American Cancer Prevention Program. It gave me insight on Hopis and how we needed more education for not just cancer but other things as well. I didn't see that happening. When I went into the governorship for my village, that gave me an insight into tribal operations. I would sit in on council if they were working on anything that would affect the villages. I listened and gave my input and that gave me more input into how I could actually change and help progress move forward for my village.
Since being elected as vice chairman, I have worked on the Bears Ears National Monument issue. We formed a coalition of five tribes in June of 2016 and that gave me the opportunity to work with other tribes and work to get something going … that gave me the experience of working with other tribes and their nuances and initiatives. We also had a government to government relationship with Washington, so I traveled to D.C. and have that experience of looking at how government actually works. That gave me a really good experience in how to negotiate and navigate through politics in D.C. That's what's really needed to be in this leadership role. The other thing that helped me is my military career and organizational skills. The leadership training — I've relied on that a lot as far as dealing with people — one on one and the organization. A big thing is learning the ability to delegate authority to others who you know who can do the job.
In your opinion what are the two biggest issues facing the Hopi tribe?
The two biggest issues facing the tribe right now are the lack of resources that we have and decrease in revenues from the closing of the Navajo Generating Station (NGS). We receive about 80 percent of our revenue from that entity. Fortunately, we have until 2019 to help us implement other types of revenue that may help us in the long run but will not have the full effect NGS does. We, as a tribe, have not really gone out and done our due diligence to look at other revenue sources. By lack of resources, I mean that right now we do not have that expertise to fill these positions that we really need in order to make the tribe efficient and spend our funding wisely. That is something that needs to be addressed.

If elected, what are two specific objectives you want to focus on during your time in office and why?
Number one is fixing my house — that's the tribe. You've got to fix your own house before you do anything, because if you don't, no matter how big or how much money you receive, you're not going to use it efficiently. So number one is fixing the house and once you do that things start falling into place and you really know where you're at. If your house is not fixed you never know exactly where you're at with your finances and your personnel. You've got to make sure that your house is in order.
Number two, how are we going to look at other resources? How can we bring them in? Once we bring those resources in, and this includes businesses, personnel, those types of resources … if we bring those resources in from the outside to help us with different proposals for economic development, we can start piecing together revenue that may surpass what we've been receiving from NGS. It's going to be a long process, it's not going to be quick. Hopefully by the end of my term as chairman, we'll have something concrete and have a basic foundation we can stand on in order to move forward. I want to set the tribe up so we have a basic foundation, so we know where our resources are and we start bringing in more revenues. This includes other tribes, the state and federal government. There's grant money out there that we haven't touched but we can't apply for some of those grants until we fix some of the things within our house.
Personal comments
I want to express to the Hopi and Tewa people that if we have faith, we can do the job. We can get better. I can't do it alone. I need their support to help me to get these things done. Working together we can make Hopi better and make the lives better for everyone out here — that includes our healthcare system, our educational system, the governmental system, the BIA and all those other little pieces that fit together. We're interconnected and without that support we can't focus on one thing. We've got to focus on everything so it fits together like a puzzle.
More like this story