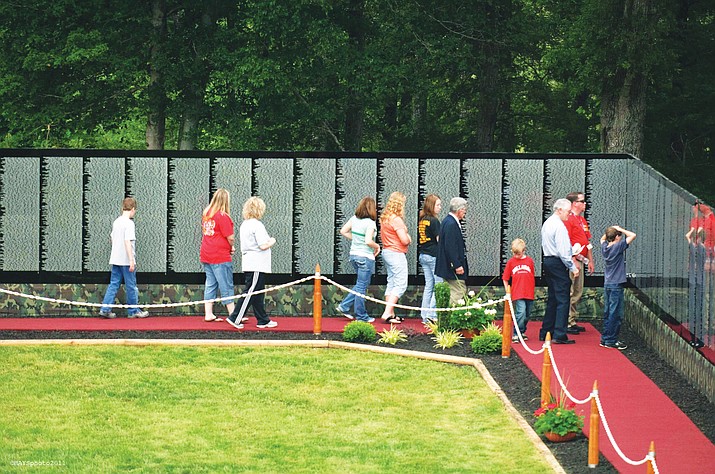 Originally Published: August 8, 2017 10:31 a.m.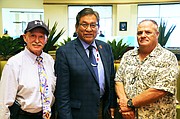 TWIN ARROWS, Ariz. — Navajo Nation President Russell Begaye welcomes the Moving Wall to the Navajo Nation at Twin Arrows Navajo Casino Resort Aug. 10-16.
The Moving Wall is a half-sized replica of the Vietnam Veterans Memorial Wall in Washington D.C. The wall travels across the country giving people the opportunity to see it in their local communities.
Over 58,000 names are listed chronologically on the monument from the first soldiers who died or went missing in Vietnam to the last.
"Hosting the Moving Wall on the Navajo Nation is truly an honor," Begaye said. "We're encouraging our Vietnam Veterans to be part of the opening ceremony and the dinner banquet."
The Wall will come to Twin Arrows by escort Aug. 9 around noon. Construction of the Wall begins Aug. 10 at 8 a.m. and volunteers and the public are welcome to assist or to watch.
"We hope for it to be up and done and open for the public to come look at by noon on Aug. 10," said Doug Kacena, director of sales for Twin Arrows.
The official opening ceremony for the Moving Wall takes place Aug. 11 at 10 a.m.
On Aug. 12, there will be a dinner banquet at 6 p.m. where Army Ranger and Black Hawk Down survivor Keni Thomas is scheduled to speak. This is a ticketed event — $60 for an individual and $600 for a table of 10. More information about those and other layers of tickets is available by calling Kimberly Chischillie at (928) 856-7237 or by email at kimberlychischillie@nnge.org.
Money raised from the banquet will benefit soldiers with post-traumatic stress disorder or traumatic brain injury and support suicide prevention services.
The Vietnam Veterans Memorial Wall and its replicas, including the Moving Wall, honor those soldiers who lost their lives during the war. This carries special significance because Vietnam veterans, including Navajo, were not welcomed home with honor. Some were spit on, cursed at, booed and blamed for the war by the public.
"Our country abandoned our veterans," Begaye said. "It's a sad moment in the history of this nation because our warriors, who volunteered to risk their lives, were not welcomed home properly. The Moving Wall ceremony is just a small token of our appreciation for sacrifices made by men and women that fought in Vietnam."
Many people work hard to move the wall across the country including William "Billy" Weldon, a Vietnam Purple Heart recipient who has helped bring the wall to Twin Arrows.
"We never got a welcome home," Weldon said. "The Moving Wall coming to Twin Arrows is like a welcome home to all Vietnam veterans. It's a healing experience for veterans [that] many have not experienced."
According to Weldon, there are 22 names of men from Flagstaff and six names from his graduating class on the wall.
"Many of our Vietnam veterans are still healing," said Vice President Jonathan Nez. "This is an opportunity for us to pay respect to the fallen Navajo warriors. Last year, we had the privilege of visiting this traveling memorial during its stop in Chinle. Families visiting the memorial were visibly touched when they saw the names of their loved ones. We are honored to have the opportunity to host it again this year."