Out and about: outdoor enthusiasts welcome at Kinder Crossing on Mogollon Rim
Originally Published: August 8, 2017 10:38 a.m.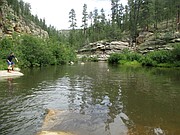 KINDER CROSSING, Ariz. — Those who love massive amounts of a variety of flowers, the butterflies that go along with it, running creeks and large swimming holes will find Kinder Crossing hike #19 the perfect place to go right now.
Kinder Crossing is a known swimming hole with a nearby campsite, which is why Boy Scouts, church groups, teenagers and swimmers of all ages love this place.
Because of the out of the way drive, not too many people come here, but it is an easy hike of about 1.5 miles roundtrip. If that's not enough for a hearty hiker, take the hike from Kinder Crossing to Horse Crossing, like we did. This turned the short hike into a 10-mile fun hike after we crossed East Clear Creek about a dozen times.
Some points were easier to cross than others, while others required crossing the creek where it was one to two feet high — you knew you were going to get wet.
Some of the crossings had thickets of willows, alders and poison ivy.
Nick Basham loves a good water hike, but he was muttering about not liking to hike with wet shoes. In the meantime, Larry Beerstein was pointing out the huge crawdads and fish in the water.
This hike starts along the Mogollon Rim, but only drops about 700 feet, from 7,007 feet to 6,389 feet, before the first creek greets the hikers.
At the top of the rim, a baby Mohave Diamondback rattlesnake was off to the side and slithered away, as it wasn't interested in us — thankfully, since the snake is poisonous.
The top of the rim is filled with gamble oaks and ponderosa pines, giving hikers some shade. The descent is gradual. While some rocks are on the trail, this is an easy down compared to most of the hikes we did this summer. The sign for Kinder Crossing #19 appears at Forest 9031Y. This is a good place to park and hike the 175 yards to the trailhead, unless you have a high clearance vehicle.
The slow descent, which is mostly switchbacks, also offers a couple overlooks for the scenic views below.
Once down, East Clear Creek greets you and the campsite and the swimming hole are just around the corner.
Sheer canyon walls give the creek a great backdrop.
Red cinquefoil, New Mexico locust, baneberry, firecracker red penstemon and columbine are among the flowers to catch the eye. Basham noticed that one milkweed was oozing the milk like substance.
Kinder Creek is named after Runyon Kinder, who herded sheep here in the 1880s.
Dogs and horses are allowed on the trail, but don't expect to find any facilities.
More information is available by calling the Mogollon Ranger District at (928) 477-2225.
Directions: From Payson drive north on State Rt. 87 for 46.5 miles just past the ranger station. Turn right onto Forest Rd 95 and go 4.1 miles before turning left onto Forest Rd 95T. Another .06 of a mile will take you to Forest Rd 9031Y, which is great place to park to begin the journey.
SUBMIT FEEDBACK
Click Below to:
More like this story