School supplies in demand in Indian Country
Originally Published: August 1, 2017 10:26 a.m.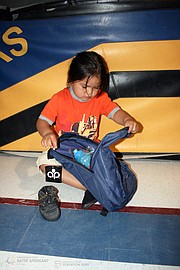 SCOTTSDALE, Ariz. — Each year, Partnership With Native Americans (PWNA) and its American Indian Education Fund (AIEF) provides school supplies and backpacks to 26,000 students across Indian Country through its annual backpack drive.
This year, PWNA will serve a total of 33 Hopi and Navajo communities, including the Navajo Nation and three schools on the Hopi-Pueblo reservation.
The 2017 drive benefits around 8,000 approximately 7,300 Navajo and 700 Hopi students.
PWNA hopes to enlist the support of local communities and provide more information on what it is doing to support secondary education and high school graduation of Native students.  
After the drive, school partners host individual backpack distributions from July 31 through August 31. Each school sets its own event date to coordinate with other back-to-school initiatives.
This year's drive started July 17, with a goal of garnering monetary and in-kind donations of backpacks and school supplies to distribute to K-12 Native students in approximately 70 schools across Indian Country, including those in Arizona.
According to PWNA, approximately 35 percent of Native American children live in poverty, with limited transportation, low incomes and poor access to basic supplies they need to succeed in the classroom. As such, 70 percent of students in reservation communities drop out of high school.
PWNA said for some Native American students living on remote reservations, even the most basic school supplies can be a luxury, given the lack of local shops and stretched family budgets.
PWNA provides a total of 26,650 backpacks across the Plains and Southwest. Each backpack includes three one-subject notebooks, two pencils, a 12-pack of colored pencils, erasers, scissors and a ruler. The organization also provides bulk supplies of jumbo pencils, glue sticks, subject dividers, calculators and hygiene kits to the Navajo partners.
PWNA serves various Navajo and Hopi communities, including the First and Second Mesa, Ganado, Wide Ruins and Pine Springs in Arizona. The organization also serves Bread Springs, Sanostee and Beclabito in New Mexico.
More information is available at PWNA's Backpack Drive.
SUBMIT FEEDBACK
Click Below to:
More like this story