Hopi High media students among 3,000 at national journalism conference
Originally Published: April 18, 2017 10:03 a.m.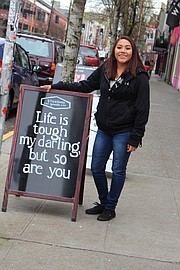 SEATTLE — Three Hopi High media students toured a high school radio station in Seattle on their way to the National High School Journalism Conference at the Seattle Convention Center. C89.5 FM plays electronic dance music.
Hopi High media students Janissa Lahaleon, Serena Leslie and and Elisa Casarez were given a tour of C89.5 FM by General Manager June Fox. C89.5 is based out of Nathan Hale High School in Seattle. C89.5's claim to fame is it was the first radio station to play a song by Lady Gaga. About 50-75 students work at the radio station inside the 2,000 student school.
Fox said C89.5 is there to serve the city of Seattle by providing music and information. The students interested in radio get jobs as soon as they graduate from Nathan Hale.
With the help of 10 staff members, the high school's non-commercial educational radio station is run like a professional station. The Hopi High media students watched as sophomore Kaylyn Ready produced some voice tracks.
Aside from the live studio, C89.5 has five production bays, including one that is handicap accessible. Like public radio stations, C89.5 FM has underwriting instead of commercials. C89.5 has two sales people who bring in about $900,000 per year so the station can be self-sustaining.
C89.5 FM has all the equipment of professional radio stations, but it's run by students.
The music and sales are kept separate as they are supposed to do according to FCC laws. C89.5 is streaming online and its programs are archived for 14 days.
Lahaleon, a radio and print journalism student at Hopi High, said C89.5 FM was awesome and inspiring. She said the best part of touring the station was seeing the high school students run the station.
"I would like to see that here at Hopi High in the future," she said.
Leslie, a print journalism student at Hopi High, said seeing C89.5 was overwhelming. She said the best part of seeing the radio station was seeing how students get the full experience.
"The organization and classes were great," she said.
Casarez, editor of the Hopi High Bruin Times, said C89.5 FM was interesting. She said the best part was the freedom students had to play music. She said the only way it could have been improved is if there were more chairs.
---
The Hopi High media students were among 3,900 students attending the journalism conference representing 46 states, Canada and China. The Hopi High students attended several breakout sessions where they received pointers from professional journalists.
The Hopi High students heard author Tim Harrower give the opening speech about fake news and the need to tell the truth in stories. He used cartoon characters to make his point and had the audience engaged. Harrower told the students to be good in many skills, but to be great in at least one skill.
"Avoid bias, but put your personality in the story," he said. "Learn design it separates you from the others."
The students went to sessions dealing with everything from how to improve their captions, to good journalism practices and editing. They also viewed exhibits that included several booths by colleges that offer journalism.
Casarez said learning from successful journalists and meeting other journalism students brightened the trip.
"I expected the conference to be kind of boring and a little to no creativity, but I was surprised to see there were quite a few sessions dedicated to improving your reporting, design layouts and improving your techniques," she said.
Casarez said the conference could have been improved if there was more room in certain sessions so more students could learn from the presenters.
"Maybe having more conversations with people from other schools could have made this conference even better," she said.
Casarez said this conference showed her what she needs to work on and now she has new goals to achieve.
"I would recommend this conference to any journalist who wants to improve in many areas and get helpful criticism back from their work," she said. "If you want to go on this trip start saving money and get ready to do a lot of fundraising."
---
One compelling session was led by Eric Thomas, executive director of the Kansas Scholastic Press Association.
"This is about a case for uncensored student speech," he said.
Thomas filled in as advisor at Pittsburgh High School in Kansas for Emily Smith since the issue revolved around her new principal Amy Robertson. Six of her student journalists found that the principal had lied on her resume about which colleges she graduated from. Smith also served on the review committee for hiring the principal.
"The student journalists knew something was screwy," Thomas said.
The superintendent and the school board at first thought there was nothing awry, but the students discovered one of the colleges Robertson had listed was a diploma mill. Shortly after this, Robertson resigned from her new job.
The superintendent, Destry Brown, praised the journalism students for their work. The Washington Post did a story about the students' journalism work and the outcome.
Thomas said Kansas protects student publication speech, the superintendent knew this and never attempted to censor them.
Thomas said this story was explosive because: there was a clear villain and hero; there was an underdog and good journalism was practiced in this era of fake news.
"They found courage in the certainty of reporting," he said. "We wanted to make sure that everything was true."
Thomas said the takeaways included: the students were not satisfied until the issue was resolved; there were obvious falsifications; the journalists had supportive families; he students had a supportive state press association and the local media ignored tips.
Hopi High media students also enjoyed a trip to the Space Needle.
SUBMIT FEEDBACK
Click Below to: