Change makers tackle dog issue in Tuba City
Second graders search for solutions to stray dog issue on Navajo Reservation
Originally Published: April 18, 2017 10:23 a.m.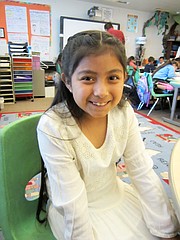 TUBA CITY, Ariz. — Students in Leslie Hosteen's second grade class, inspired by the non-fiction book Change Maker, a story about kids who are making a difference in the world, decided to become change makers themselves.
The kids listed a few problems and eventually settled on the issue of stray dogs in and around Tuba City. The kids brainstormed and listed how they thought they could help. A few suggested getting government help. While researching the Navajo Nation animal control website, the kids discovered one reason stray dogs are such a big problem in the Tuba City area, and around the reservation, is because of a lack of money. The kids found the Navajo Nation only has five animal control officers, according to its website. The kids also read about a three-year-old who was mauled by dogs.
"This could happen anywhere," Hosteen said. "My students felt that it was their duty to stand up for kids."
The Tuba City Chapter funds the fire department and Hosteen asked if the fire department could fund additional animal control officers.
The kids also began writing letters trying to persuade leaders to address the issue, which they have gotten permission to share at the April 28 Tuba City Chapter meeting.
One of the students, Hiromi Ortiz, said it is not just about getting more animal control officers but making sure the dogs have homes, too.
"First it was all about dog control officers, but then we heard that someone already did that kind of thing," Hiromi said. "So it started going into a shelter for dogs. There's this thing called Tuba City Humane Society and they don't have any buildings. We're going to ask the chapter house leaders if they can … build a shelter and a building for that society."
Hiromi said that one of the tasks the students have is to draw a dog park and a shelter for the Tuba City Humane Society.
She also said that one of the most important things the kids are doing is to bring awareness of the situation to everybody in Tuba City and that is what the kids are trying to do – educate the public who own dogs about how to take care of them and why it is important that the community does not let their dogs run loose in town. She said part of the problem is the lack of enforcement in places like Tuba City.
"We have these rules here," Hiromi said. "It's like Flagstaff, you get a ticket if your dogs are not tied up, or in a cage and they're just running loose, or if they're too loud and bark all night. And people just say, 'we don't have to do that because it's the rez. That's all they say. But they should. They haven't enforced it here right now. Some people don't know [there are rules] because they are not enforced here."
Another student, Peyton Ray, said she owns a dog and that is what inspired her to want to help find a solution to the dog problem in Tuba City. She said infected dogs are a problem, too, with all the loose dogs running around.
"They can touch other dogs and those other dogs can get ill, too," Peyton said. "We can make a shelter for them so they can get better. And we can have an adoption area so people can adopt the dogs."
Hosteen said it is important to teach responsible ownership, to get animals spayed or neutered.
"I think that's the biggest thing, is the cost," he said. "We offer low cost spayed and neutering, like $45 or $50 dollars as opposed to going to Flag and it's $100 and something."
The kids researched Flagstaff and why it does not have the same problem as Tuba City or other areas of the reservation.
"They do enforce it (the ordinances). Once there's a dog loose, someone goes up," Hosteen said. "It's just the resources here, the officers have to travel three and a half hours to help us. So, that's the main thing, it's just that the resources aren't there."
He said the Nation has said it is trying to get animal control officers in each town, even though it has not happened yet.
Animal control officers removed 37 dogs from Tuba City and issued 18 citations, but that is still a small dent in a big problem.
"It's positive, but then there will be a few people who will be against it just because," Hosteen said. The responsible owners don't care but the irresponsible owners don't like it. Sometimes it comes down to culture. But that shouldn't be an excuse to let our dogs run around. We want our town to be as close to Flagstaff standards as possible."
Hosteen said he learned from a person who worked at the zoo, that it is important for people to understand their breed of dog.
"I have a huskie and I know it's a working dog, so I run with it," Hosteen said. "All these shepherds and heelers, those are working dogs and they're tied up all the time. Nobody takes them and walks them. And when they're finally off, they get aggressive because they have that built up."
Hosteen hopes the chapter will look at the problem and try to come up with a solution. He said the president and treasurer have been welcoming and want to hear from the students. The kids are also learning how to articulate and understand and process information. Hosteen said it is a very project based learning and includes how to do the research themselves.
"They've learned about all these different animal diseases… the ordinances," Hosteen said. "It's helping them become independent."
SUBMIT FEEDBACK
Click Below to: