Minnesota meets Arizona during visit at Hopi High School
Originally Published: April 11, 2017 10:29 a.m.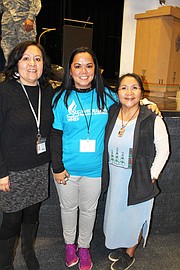 POLACCA, Ariz. — Thirty students from the West Metro Educational Program (WMEP), an ethnic studies program from the Minnesota area, visited Hopi High School April 4 for a cultural exchange.
WMEP began several years ago to research the civil rights experience, but has grown since that time. The idea is for students in K-12 to learn about themselves, but to also connect with the broader community. It also began with the idea of helping African American students, but has grown to also include helping Native American and Hispanic students.
Anthony Galloway, executive director with WMEP, said the group came to Arizona for five weeks to study sovereignty and water.
"We are in Arizona now to study water and impacts on the communities," he said.
Galloway said they found water is abundant in some indigenous communities and scarce in other indigenous communities.
Galloway said they were studying Hopi history and visiting the villages. The next day they would head to Northern Arizona University, the following day they would head to Phoenix, where they would put together an audio picture into a report that would produce radio podcasts, news articles and poetry for their website wmep.k12.mn.us
"Every year the content the students generate becomes the curriculum for ethnic studies," he said.
The two programs came together when former Hopi Jr/Sr High School Governing Board member Romalita Laban and Minnesota public school teacher Anna Ross met at a leadership conference.  Hopi High AVID teacher Lynn Fredericks brought her students as they read poems, shared some of their learning and created t-shirts for the visitors from the Minnesota area.
Galloway said it's important for students, regardless of their ethnicity, to have knowledge of themselves and their identity.
"That's why immersing students in their culture is the best way to grow their education and have them engaged for a racially equitable society," he said.
The Minnesota area students came from six school districts and included representation from the Dakota and Ojibwe tribes.
Galloway, who comes from West Africa, said the Minnesota group represented tribes from America and indigenous cultures from around the world.
Galloway said it was powerful seeing the two groups come together, as some tribes battle unwanted water pipelines that could contaminate their water.
"Now we have more people to call," he said. "It's hard for one group (to fight a problem), but imagine if we can all work together. Look at the kids around you because you might have to call them someday."
Laban recounted how she met Ross at the Circle of Leadership Conference where they gained strong connections all over the world.
"It means so much to me that we are all here together," she said.
Laban said they should all remember the faces and cherish that.
"You are always welcome at my home," she told the visitors and ended up feeding them later that night with a Hopi meal.
SUBMIT FEEDBACK
Click Below to: