Emery-Riddle Aeronautical University staff meets Hopi students
Originally Published: April 5, 2017 9:43 a.m.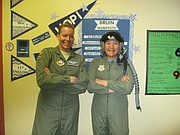 POLACCA, Ariz. — Major Marella Big Mountain, professor of Aerospace Studies for the Air Force Reserve Officer Training Corps (ROTC) at Embry-Riddle Aeronautical University in Prescott, along with Embry-Riddle students, visited Hopi High to tell them what the university has to offer them.
Big Mountain and Embry-Riddle students spoke to Hopi High AVID and Junior ROTC students March 30 in AVID teacher Lynn Fredericks' classroom.
Students going to Embry-Riddle can learn to become pilots but they can also major in business, security, mechanical engineering, computer engineering, aerospace engineering, forensic biology, forensic psychology, forensic accounting and video game design.
Big Mountain said Russians and other cultures think "Native Americans are the neatest." She said Afghans are similar in dress to Iroquois and they have similar drum sounds.
"The Soviets made Native Americans heroes in their movies," she said.
Big Mountain said as a pilot, she was trained on C130s, but Embry-Riddle also has B51s, B52s and B35s.
Embry-Riddle's tuition is $45,000 per year, but there are scholarships available both through the university and the ROTC. One Embry-Riddle student said the students should not let the cost of the tuition scare them away because 80 percent of the students at Embry-Riddle have scholarships.
Claire Schindler, a student at Embry-Riddle, said grades are important for obtaining scholarships. Most of the students in the room were freshmen and she told them they should take their grades seriously starting in their freshmen year.
"Take it seriously now so you don't have to play catchup later," she said.
Embry-Riddle is one of the smallest universities, but has one of the largest Air Force attachments. One in nine students at Embry-Riddle is in the ROTC program.
The FACES scholarship, which is good for any university, is for students going into STEM courses. As long as students have a 3.5 grade point average, are Arizona residents and are first time college students, they can get this scholarship.
Big Mountain said the Air Force has jobs for pilots, scientists, security forces, weather and public affairs, among others.
"I've seen most of the world because of the Air Force so I'm very thankful," she said.
Big Mountain said during their senior year students should fill out the ROTC scholarship as soon as possible. She told the students that the Air Force treats their people better than the Army. Her sister is in the Army and when she lands she sleeps in a tent to watch her airplane. When Big Mountain lands, she stays at five star hotels.
Big Mountain uses her doctorate in Applied Leadership to instruct and mentor the next generation of military leaders. She received her commission from the Officer Training School in 1999. She earned her pilot wings from Specialized Undergraduate Pilot Training Columbus Air Force Base in Mississippi in 1999 when she graduated with academic distinction.
She served as a pilot in Southeast Asia and Iraq. In 2005, she transitioned to the Air Force reserves where she served as a foreign clearance oversight specialist and an airlift director of operations. She used her Russian language skills when she served as chief of military cooperation in Uzbekistan earning the Air Force CGO of the Year Award.
Big Mountain has a Bachelor of Arts in economics from the University of Wisconsin, Master of Arts in international relations from Webster University in St. Louis and a doctorate in strategic leadership from Regent University in Virginia.
SUBMIT FEEDBACK
Click Below to:
More like this story