Tuba City High students attend Stanford University Pre-Collegiate International Institute
Originally Published: September 27, 2016 12:10 p.m.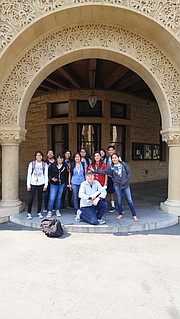 TUBA CITY, Ariz. — Ten of Tuba City High Schools' top academic achievers had the distinct honor and privilege to attend the two-week 2016 Stanford Pre-Collegiate International Institute August 16 - 28 in Stanford, California.
Cheryl Onsae, Tuba City High School (TCHS) Academic Advisor was the trip chaperone and mentor for tenth and eleventh grade students participating in the program. Students challenged high achieving students from the San Francisco region in a rigorous academic environment. The goal of the program was to stimulate, involve, expand and express crosscultural approaches to global issues and personal academic progress.
The Stanford Pre-Collegiate International Institute provides academic opportunities that might not be present in a student's regular school environment. The Stanford program aims to break the mold of a traditional classroom and methodologies, allowing students to engage in a transformational educational setting.
Tenth grade students Ason Begaye, Chanell Barrett, Shante Yazzie, Lakisha Tenorio and eleventh grade students Marison Bilagody, Turnerlynn Blackhair, Shalyn Nockideneh, Kayleigh Paddock, Hero Roberts and Dynnika Tsi represented Tuba City High at the event.
During the two weeks, students participated in workshops, presentations and cultural exchanges.
Over the weekend students focused on global and academic topics ranging from anthropology, multi-media internet technology, concepts in communication, visual design and business and entrepreneurship. Other areas covered included writing workshops, decision making and thinking mindsets, non-verbal communication, explorations in neuro-science and mathematics, and problem solving among others.
The classes were conducted by both national and international university professors, international fellows, private company owners and award winners of national and international acknowledgement in their varied fields of study.
In the legal studies workshops students learned more about the American legal system. The workshop helped students develop and refine communication, critical thinking and public speaking skills and taught them about effective debates and discussions.
This legal studies workshop was conducted by Laura Cosovanu, who teaches the Legal Studies class for Stanford Pre-Collegiate studies and previously taught International Human Rights at the University of California Santa Cruz. Cosovanu is a member of the State Bar of New York and as an attorney practiced tax-exempt law. Cosovanu also conducted legal and policy research for Human Rights Watch, the International Center for Transitional Justice and the American Non-Governmental Coalition for International Criminal Court. She was one of ten 2001 Human Rights Fellows of Columbia Law School, where she obtained her LLM and Juris Doctorate.
Robotics was another workshop students attended, where they learned about the making of a robot's brain. The workshop was conducted by Dr. David Zhu, who received his doctorate from Stanford in 1992 in computer science. Students were given a formal presentation and participated in hands-on experiences with the robot brain. After a high school level overview of robotics, the students were able to spend time programming their own robot.
In addition to the serious academic disciplinary workshops, students also had time to share crosscultural traditions and language with the other international attendees.
Students were housed in a dorm setting with students from Canada where they were able to share culture, language and tribal customs, as well as contemporary interests like social media, computer science and even food and music.
The Tuba City High students were the only Native American high school invited to this year's two week session. According to Onsae, students said the trip was an eye opening experience.
"This trip really opened our student's eyes to the international world and what is possible for them as high academic achievers to explore and discover their own new academic truths," she said. "It was such a wonderful experience even for me as their mentor and trip chaperone, we just didn't want to come back home."

Many of the Tuba City High students selected for this program, have traveled across the U.S. previously and have been on academic trips before.
Hero Roberts, a junior at Tuba City High School said the Stanford trip was a special experience for all of them.
"I am looking at getting into medical school once I finish undergrad at a university. I'd eventually like to become a transplant surgeon. I'd like to keep my final GPA high enough in my senior year to graduate as valedictorian and then apply to Harvard," he said.
Likewise, LaKisha Tenorio, a tenth grader at TCHS said she enjoyed the program and said it helped her realize there is always room for improvement.
"I've never received any grade below an A or B in my classes and am ranked number one out of 221 students right now. But I want to keep my grade level high enough to graduate as my class valedictorian and am thinking that I would like to pursue a career as an architect or a dentist. I have volunteered before at our local hospital and am involved with student council at TCHS, but I think I still have room for improvement and more community participation. I really enjoyed my classes at Stanford," she said.
SUBMIT FEEDBACK
Click Below to:
More like this story