Hopi Fest celebrates culture and art
Originally Published: September 20, 2016 11:42 a.m.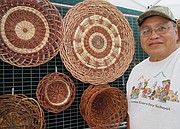 FLAGSTAFF, Ariz. — The 7th annual Hopi All Native Arts and Culture Festival in downtown Flagstaff Sept. 24-25 is an opportunity for visitors and residents to experience Hopi art and culture at its best.
Sponsored by the Hopi Tribe Economic Development Corporation (HTEDC), which seeks to improve economic development for the Hopi people, the festival showcases Hopi artisans and dance groups in an outdoor and family friendly atmosphere in downtown Flagstaff. This year's festival proceeds will go toward Hopi education.
The festival takes place in Heritage Square from 9 a.m. to 5 p.m. both days. The celebration of Native cultures will include social dances, music and traditional and contemporary art. Artisans include potters, carvers, weavers and painters and notable artists.
According to Lisa Talayumptewa, event coordinator for HTEDC, the event aims to bring together communities and visitors from around the world to learn from one another togetherness, happiness and stewardship of Mother Earth for all people from different walks of life.
"It is a lot of fun and very informational," she said. "People can learn about the true Hopi art from Hopi artists themselves and how each piece is unique."
Talayumptewa described each artisan looking at a piece of cottonwood, which kachina's are carved from, and only then figuring how what the piece will look like. Each artist sees a different vision in the wood, therefore, every piece created is unique. She said the same process is true for the weavers and other artisans.
"As my grandmother said, 'Don't ever make something when you're not good in your heart because it will reflect in your work,'" Talayumtewa said noting that in history all the pieces were made for ceremonial purposes where it was important for the people's heart to be in the right place before they bring out the beauty of what the piece is supposed to be.
She said Hopi art is not manufactured and it all has meaning and feeling that the artist experienced on the day the piece was made.
Also important, Talayumptewa said that everything Hopi does is related to nature, which is why Hopi are considered stewards of the Earth.
"It provide us with food and the talent we have," she said. "When you go as an artist or as an individual, when you go to pick your supplies to use to make whatever it is you are making, you never pick it to the bone. You leave it there to grow and prosper more. That is part of what goes into your art."
The well-being that is put into the art by a Hopi artist carries over to the person who buys the art, as well.
"Part of what goes into a piece of art, someone who owns a piece of Hopi art, that is for prosperity and growth, not only the meaning of the symbol on the piece of work… that is one thing that needs to be known, it is all for prosperity and growth," she said.
Organizers started the first market in 2010 to assist artisans in selling their art and crafts to provide for their families, and to provide an opportunity for them to share a little about their way of life and rich culture.
Aspen Avenue between San Francisco and Leroux streets will be closed during the festival.
"It is exciting to have our downtown businesses be a part of our festival and hope that our working relationship will only grow stronger," Talayumptewa said. "Each year that I work on putting this festival together gives me a feeling of satisfaction knowing that I am a part of a rich heritage that I can share with others."
Despite the hard work of putting together the festival, Talayumptewa said it is all worth it to see the weekend come to fruition.
"I am so thankful to [the artists] taking their time to come to Flagstaff," she said. "The best part of it is to be able to bring people together, even if it's for a weekend, to be as one for a weekend."
More information is available at hopiallnativefest.com or from Talayumptewa at (928) 522-8675.
SUBMIT FEEDBACK
Click Below to: