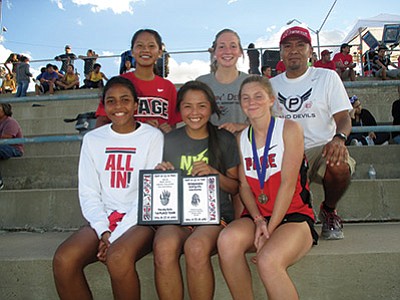 Originally Published: September 6, 2016 10:57 a.m.
POLACCA, Ariz. - Page High School won both the girls and boys varsity cross country races at the Hopi Invite Aug. 30 at Hopi High School. This race kicks off the cross country season for most teams in northern Arizona.
Host Hopi High grabbed second in the boys race and third in the girls race.
Page won the girls race with 41 points, Ganado grabbed second with 64 points and Hopi was a close third with 69 points.
The rest of the top ten showed Window Rock, fourth, 96 points; Chinle, fifth, 133; Holbrook, sixth, 140; Many Farms, seventh, 168; Winslow, eighth, 192; Alchesay, ninth, 201; and Pinon, tenth, 273.
Page High School Coach MacArthur Lane said it's always a good feeling to place first, but his girls and boys teams came to have fun and a good experience. He said the goal for the girls is to repeat as state champs, although it will be tough as Window Rock, Ganado and Rio Rico all have tough teams.
Lane said most of his runners ran during the summer when it was hot so running at Hopi at this time of year wasn't much to deal with.
Lane said the Page girls are solid because they are seven to ten runners deep. However, he said the girls can improve by closing the gap between the first and second, and sixth and seventh runners.
He said the Hopi High course is tough so it's a good indicator of overall fitness of the runners. He said the key to a successful cross country season is preparing during track season and the summer.
"All the other teams here today did a good job and we're looking forward to continuing to compete against them," he said.
Mariah Yazzie led Page by winning the individual championship with a time of 20:14:8. The rest of the championship team included Victoria Tenpenny, fifth; Kloe Littleman, eighth; Sofia Bryan, 11th; Zhanna Edwards, 19th; Mikala Benally, 79th; and Kodi Tate, 80th.
Yazzie, a 17-year-old senior, said taking first made her feel accomplished.
"I was relieved that all our hard work paid off," she said.
Yazzie said the warm weather did not impact her running because she ran in Page during the heat of the summer. She ran 50-55 miles each week during the summer.
She said the Page girls ran well and they hope to repeat as state champs, but three girls from last year's team graduated. Her individual goal is to set a personal record this season. She hopes to finish in the top five at state.
Yazzie didn't run at the Hopi Invite last year, but placed fourth when she ran as a freshman.
Yazzie said the Page girls can improve by working together and acting as a family. She hopes to earn a cross country scholarship to college. She plans to major in dentistry at Southern Utah University.
Window Rock's Chamique DuBoise grabbed second place, but the only other Lady Scout in the top 15 was Taylor Murphy with a 13th place finish.
Ganado's Janaya McIntosh took third place and teammate Jayla McIntosh was right behind in fourth place. The others on the runner-up team were Shamique Nez, 17th; Allayah Reid, 18th; Esther Beck, 26th; Shada Golden, 29th; and Nizhoni Golden, 44th.
Jaeda Honanie led Hopi with a ninth place finish. Her teammates were Jennaya Day, 14th; LeAnn Lomatska, 15th; Lauryn Honwynewa, 16th; Latifah Huma, 20th; Veronica Casuse, 43rd; and Yoiwmana Pooyouma, 55th.
The others finishing in the top 15 were Allisia Honyumptewa, Chinle, sixth; Danah Smith, Greyhills, seventh; Jessica Todacheenie, Holbrook, tenth; and Liyah Begay, Many Farms, 12th.
Page won the boys race with 41 points, Hopi came in second with 91 points, Tuba City took third with 108 and Chinle finished fourth with 109.
The rest of the scoring showed Pinon, fifth, 138; Ganado, sixth, 134; Alchesay, seventh, 157; Many Farms, eighth, 166; Holbrook, ninth, 212; Winslow, tenth, 234; Window Rock, 11th, 236; and Valley Sanders, 12th, 303.
Lane said the Page boys also hope to repeat as state champs. He said the Page boys run well because the gap between the top five runners is close. He wants to see the runners close the gap between the top runner and the seventh runner.
Lane said the toughest competition for the boys will be Chinle, Tuba City and Ganado. Lane started coaching as a volunteer in 2005.
Santiago Hardy from Chinle was the individual champ with a time of 16:19.6, but Josiah Tsosie was his only teammate in the top 15 finishing in seventh.
Hardy, a 17-year-old senior, said winning was great because he put so much into it. He said the weather was great because it clouded up after the first mile.
Hardy said his teammates ran well. He said the team goals are to finish in the top five at all races. He was the individual state champ last year and hopes to repeat this year. He said the team can improve by pushing each other throughout the races.
He ran every day during the summer averaging two miles. He hopes to major in homeland security at either Bacone College, Arizona State University or the University of Arizona.
Adriano Joe from Pinon grabbed second place and teammates Wesley Cook took eighth and Tyrin Begay finished 12th.
Dorian Daw led Page by finishing third and teammate Bowen Martin was right behind him in fourth place. The rest of the championship team included Justin Billy, 13th; Morgan Fowler, 18th; Allen Fowler, 21st; Jacob Secody, 31st; and Corbin Martin, 101.
Jalen Chee from Ganado finished fifth, but none of his teammates were in the top 25.
Diome Talaswaima topped Hopi by placing sixth. The rest of the runner-up team were Andre Lucas, tenth; Andre Dennis, 24th; Trey Lomayestewas, 26th; Steven Baker, 28th; Jihad Nodman, 30th; and Dewayne Laban, 51st.
The other runners finishing in the top 15 were Vaughn Jackson, Tuba City, 11th; Tristan Antonio, Tuba City, 14th; and Johnson Farrell, Tuba City, 15th.
The junior varsity race winners were Regine Williams from Ganado in the girls race and Cullen Nockideneh from Page in the boys race.
Williams, a 17-year-old senior, said this the first time that she ran.
"It was good because I was thinking to myself that I could push myself to victory," she said.
Williams said running the 1,600 and 3,200 meters in track prepared her for the cross country season. She also ran six miles Monday through Friday during the summer.
"So, I didn't feel hot today," she said.
Williams maintains an A/B average. She plans to major in pre-med or athletic training in college. She hasn't selected a college, but plans to go somewhere in Texas because she has relatives there.
Nockideneh, a junior, said this is his first year running cross country, but he ran sprints for the track team in the spring.
"This is really new to me," he said. "What got me the win was the skills that came from track."
Nockideneh ran the 400 meter and the 4x 800 relay.
"Track helped me with my form," he said. "The hardest part was the ending. Just like the 800 meters, you tense up at the end. I learned that you're faster when you use your arms then your legs go faster."
He credits track coach Reggie Edwards with teaching him that form.
Nockideneh said he thanks his teammates for pushing him because the team is like a family.
Nockideneh also plays basketball, but puts his emphasis on academics. He has a 3.6 grade point average. He plans to major in astrophysics, astronomy or engineering at the University of Arizona.