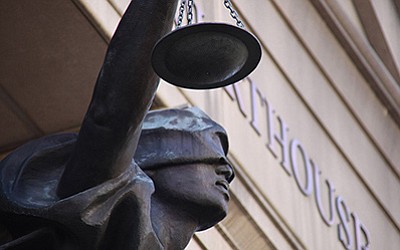 Originally Published: September 6, 2016 10:38 a.m.
WASHINGTON - A divided federal appeals court Tuesday overturned the assault conviction of a Gila River Indian Community man, saying the tribal court failed to tell him he could get a trial by jury - if he asked.
A three-judge panel of the 9th U.S. Circuit Court of Appeals said Fortino Alvarez's treatment by the tribal court fell short of the fair treatment required under federal law and his convictions for a 2003 assault on his girlfriend had to be reversed.
But Judge Alex Kozinski went on to pointedly criticize the behavior of the tribe's courts, saying in a concurrence that the case was a reminder of a rat's nest of problems in those courts that were first noted in 1999 and that have seen too few reforms since.
Calls to Gila River tribal offices seeking comment were not immediately returned Aug. 30.
The case began in April 2003 when Alvarez, a member of the Gila River Indian Community, showed up drunk at his girlfriend's home and started arguing with her, according to court documents.
Alvarez, then 20, hit his 15-year-old girlfriend with a flashlight, pulled a knife on her and then clubbed her brother when he tried to intervene. Alvarez left, but not before threatening to come back and kill their entire family.
Alvarez was arrested and charged with assault, domestic violence, criminal threats and misconduct involving a weapon. He was given a defendant's rights form by the tribal court indicating, among other things, the right to a jury trial if he asked for one.
He was convicted on all counts but making criminal threats and sentenced to five years.
On appeal, Alvarez argued that the tribal court had an obligation to tell him that he had to ask for a jury trial under the Indian Civil Rights Act, which says tribes may not deny defendants facing time in prison the right, upon request, to a trial by jury.
A lower court disagreed, but the appeals court sided with Alvarez, saying the tribal court's expectation that he would understand more about his rights was unreasonable.
While federal courts are generally reluctant to trench upon tribal sovereignty, the failure to notify him of the obligation to ask for a jury trial violated his right to fair treatment.
Kozinski said the rat's nest of problems with the Gila River Indian Community courts could provide criminal defendants an avenue for appeal in the future if not corrected. He pointed to a 1999 circuit court opinion expressing doubt that a functioning appellate court exists in the tribe and said there has been little improvement since.
Kozinski ticked off a list of problems. Alvarez got only five days to file an appeal, "the shortest such window I have ever heard of," wrote Kozinski, who said Alvarez was jailed for nine years with no guidance on how to appeal and no jailhouse law library that would allow him to do his own research, among other problems.
Alvarez was released years ago, after having spent most of his 20s in jail.
"Perhaps (the tribe) and others like it will take this opportunity to reconsider the dubious procedures they employ in their criminal courts," Kozinski wrote.