Homecoming week capped off with naming king, queen, duke and duchess
Originally Published: October 25, 2016 11:21 a.m.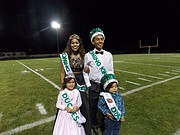 TUBA CITY, Ariz. – Tuba City won its homecoming game against Chinle and the week of activity was capped off by the annual Warrior parade through uptown with a sea of warrior green on alums, parents, grandparents and community members.
The parade shuts down uptown for about three hours as it makes its way from uptown Main Street from Tuba City Junior High though the busy corner of Moenave Drive and Main Street ending at Warrior Drive at Tuba City High School.
This year's 2016 TCHS Parade Grand Marshalls were, Cheryl Pooyouma, a former TCHS staff member and David Moreau, current math teacher at Tuba City. Both Pooyouma and Moreau are former TCHS alum themselves and the high school students voted them in as parade marshalls this year to honor their contributions to their Tuba City and Moencopi communities and the high school.
The final homecoming game score was Tuba City, 6, Chinle High- 0. The game was held at the Blue Canyon football field at the high school that same evening.

Winning the homecoming game made the weeklong celebration sweeter with a rousing halftime royalty event that featured the crowning of TCHS 2016 Homecoming Queen Alisa Yazzie and her Homecoming King Terrell Arizona.
Yazzie and Arizona were flanked on the 50-yard line by a huge royalty court this year, including the littlest royalty, who were representatives from the Tuba City High School Preschool program, Duchess Kyree Rector and her Duke Dylan Tallsalt.
Also on the royalty court this year were First Runner ups: Kandice Tanner and Brett Nez, second runner ups: Paige Tsosie and Chris Tinajero, and third runner ups: Kayleigh Paddock and Marison Bilagody.

Additional royalty for the high school were freshman, Katelyn Henry and Malaki Henry, sophomores: Tatum McCabe and Derrell Lopez and juniors: Kayleigh Paddock and Marison Bilagody.
Some of the week long activities at Tuba City High school for this year's homecoming included, "Staff Dress up Day," where the students dressed up like one of their teachers. Multiplicity Day, dressing up in groups, Tacky Tourists Day, dressing up like tourists who visit the Rez-ervation. Friday was Warrior Green and White Day, where the entire community participated during the parade and the evening football game.
This year's teacher sponsors were Richard Dawavendewa, TCHS art teacher and Allyson Nockideneh, also a TCHS staff member.

SUBMIT FEEDBACK
Click Below to: