Navajo hoop dancer and healer Jones Benally has seen it all
Lee Allen, Indian Country Today Media Network
Originally Published: October 18, 2016 10:48 a.m.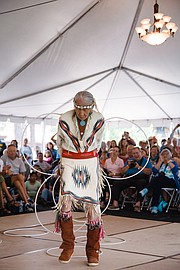 FLAGSTAFF — Age is only a concept to Dine hoop dancer Jones Benally, who was born in an octagonal home on the Navajo reservation in the dirt floor/no water/no electricity days before birth certificates. He is still going strong today.
Two years ago, when he became the recipient of the first-ever "Hoop Dance Legacy Award" from Heard Museum, the press release noted that Benally was in his 90s and had been a hoop dancer for more than 75 years "traveling the world as a cultural ambassador sharing culture and song."

Not much has changed. Recently he packed for a trip to the South by Southwest (SXSW) Music Festival in Austin, where he would sing and perform with family members as part of the group Sihasin or "Hope" in the Navajo language.
That concept of hope is part and parcel of who he is as a practitioner of Ho'zho, the Navajo Concept of Balance and Beauty.

"We need to work together, to take care of our planet and each other," he said.
Benally has few performance worlds left to conquer after a lifetime of entertaining and educating audiences around the globe, so his participation at SXSW reflects his continuing love of performing — this time at a venue that attracts thousands as one of the largest and most influential music events of the year through nine days of music performed by over 2,000 acts.
Raised in traditional fashion among Navajo-speaking family members, Benally learned his dance basics from his father and grandfather.

"They were medicine men who did ceremonies and I was trained to help," he said. "Hoops are a part of the healing ceremonies and when you learn to become a dancer who makes medicine to heal, that's where I started."
Navajo dance is a sacred tradition encompassing a wide variety of forms, all of which are intended to heal the body, mind, or spirit.

"The ones that created human people gave this dance to us to help us get well," Benally said. Presented outside a Navajo community audience, dances are modified for public viewing and the award-winning hoop dancer says while it is important for youth to learn the hoop dance for showing, "the dance is from our ceremony to release bad spirits from the body, that's why the dance must be respected."
Traditional healing was used to make people better long before there were doctors and hospitals, and Benally is credited for bringing tradition and technology together.

"We created a joint program 19 years ago for the Indian Health Service Hospital in Winslow, Arizona," said Berta, his wife of 43 years. "Traditional healing often has a higher success rate than Western medicine, but some practitioners were charging too much, so we created a free service for people who would otherwise not be able to afford a medicine person."
Because of recent policy changes, working directly with patients in government hospitals is no longer allowed.
"We're trying to change the name to Traditional Medicine Counselor to continue our practices," she said.
"The Creator helped us with technique and special medicines and early on, when no hospital was here, only the medicine men know what can heal people," Benally said. "Even now in hospital, if they don't know what's wrong, they come see me to find out what can be done with herbs and body work. I am proud of myself to be able to work with my own people to help."
Help is a key word in Benally's lexicon.

"We are all brothers and sisters on this Earth," Benally said. "People are similar throughout the world and we need to work together to solve problems. We need to carry on our culture, to take care of each other and our planet, not poison our atmosphere and our food. It's not only our people, but others where people get sick and don't know how they're going to get well. We need to help one another, teach one another for a better way. That's why I learned my ceremonies—to help people."
In addition to his healing and hoop dancing prowess, Benally has had an acting career that brought him in contact with John Wayne and earned him a part as a featured singer in the film Geronimo.
"Movies were fun, not work," he said. "Just like playing around, you know?"
Regardless of his true chronological age, Jones Benally has seen a lot and done a lot over the years and like most elders, has some advice for Navajo youth.
"A lot of young people, they get educated, but still don't know who they are, they lose their culture," Benally said. "What we are doesn't change. We need our ceremonies to restore our youth back into balance."
SUBMIT FEEDBACK
Click Below to: