Hopi High celebrates homecoming royalty
Originally Published: October 4, 2016 10:07 a.m.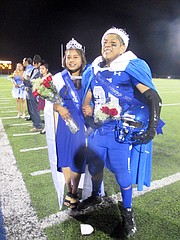 POLACCA, Ariz. — Hopi High School's Lauren Eustace was named homecoming queen and Drew David joined her as homecoming king during the halftime crowning Sept. 30 at Bruin Stadium.
The Bruins beat Zuni 36-26 in the homecoming game.
Eustace said she was relieved to win the crown, but she said it was more important to just have fun.
"All of the candidates did their best," she said. "It's not about winning, but about having fun."
Eustace said her message to her classmates is to make the best of every situation and that her winning the crown shows that anything is possible if you put your mind to it.
Now, Eustace feels that she is a role model for the younger students, especially junior high, and will need to act accordingly. She said her mother, Valerie Nuvayestewa, is her role model and keeps her motivated.
Eustace said she was surprised that she won because she thought Betty Dewakuku was going to win. She was happy David was named homecoming king because she said the two of them have been through a lot together.
Eustace said winning homecoming queen was important to her because it shows that as long as you put your mind to it, anything is possible.
Eustace, a senior, plans to major in public health at Ft. Lewis College next year. She plans to play basketball and softball this year.
David also said he was relieved to win the king's crown.
"We finally did it," he said.
David said all of the candidates did a good job of preparing for homecoming night.
"We all did it together," he said.
David also said he hopes to serve as a role model for younger kids. He said his role models are everybody in his family and the creator up above.
David said he was surprised he won because a couple of the other candidates are popular. He was also happy that Eustace won the queen's crown.
"This was important to me because this is my last year playing football," he said.
David plans to major in culinary arts or carpentry next year, but hasn't decided what school to attend. He plans to wrestle this winter. He is the daughter of Glendora Lopez.
SUBMIT FEEDBACK
Click Below to:
More like this story