Navajo Tribal Park overlooking Little Colorado River gets new interpretive site
Originally Published: November 29, 2016 11:08 a.m.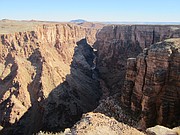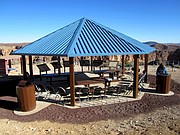 CAMERON, Ariz. — On Nov. 18, a new interpretive site at the Little Colorado River Navajo Tribal Park was dedicated, showcasing new interpretive signs, a ramada and picnic tables, along with public restrooms.
The site does include a fee station. The tribal park also includes arts and crafts stands, where Navao vendors sell their handmade crafts.
The Little Colorado River gorge lies in the western portion of the Navajo Nation, adjacent to the eastern boundary of Grand Canyon National Park. It is one of the largest tributaries of the Grand Canyon and forms a steep and narrow gorge that runs 45 miles along the Painted Desert.
Shadow Mountain is viewpoint 1, where the dedication took place and is near milepost 286 on Highway 64. Viewpoint 2 is called Hoyee' Adeetiin and is free and open to the public. There are hiking trails, picnic tables and vending.

Coconino Parks and Recreation, the Cameron Chapter, Navajo Nation Parks and Recreation, the Navajo Nation's tourism department, the Navajo Nation Council and the Coconino County Board of Supervisors partnered to improve the site.
It now includes a ramada, which is shaped like a Hogan and is orientated to the east. The floor features a concrete stamp that includes four sacred Navajo plants. The interpretive panels and botanical signs include information on northern Arizona and Navajo culture, and were made in consultation with the people of the Cameron Chapter.
Jeff Stein, project manager for Coconino Parks and Recreation Department, said he was sad to see the project come to an end only because through the work everyone involved had become family.
Others who were there included Emmett Kerley, Cameron Chapter vice president, Milton Tso, Cameron Chapter president, Martin L. Begaye, Navajo Parks and Recreation director and former Coconino County Board of Supervisors Mandy Metzger, echoed the feeling.
The distinction between a gorge and a canyon, according to Tso, is that a gorge is deeper than it is wide and a canyon is wider than it is deep. He said someday he would like to see a trail along the rim that would run all the way to Grand Canyon National Park.
In addition to the Little Colorado Overlook, two other Navajo Nation sites, Antelope Canyon near Page and Grand Falls near Leupp, have also been upgraded with new interpretive panels and ramadas. The three sites are part of the Coconino Parks and Open Spaces (CPOS) initiative established in 2002.
SUBMIT FEEDBACK
Click Below to:
More like this story