Tuba City Junior High announces fall semester Honor Roll
Originally Published: November 22, 2016 11:31 a.m.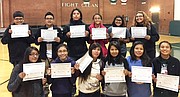 TUBA CITY, Ariz. — Tuba City Junior High Principal, Dr. Melissa Bilagody announced the final list of junior high students who made the A Honor Roll listing:
Sixth grade A Honor Roll:

Ethan De Guzman, Maric Bilagody, McKennon George, Jacelyn Tallsalt and Aleathia Williams.
Seventh grade A Honor Roll:

Loren Talayumptewa, Kalani Moeai, Papsiya Lomayestewa, Marshall Isaac, Kaylee Navaho, Gitanjiili Begay, Cianna Hawke, Walter Fowler, D'Marris Kootswatewa, Johnthan Gutierrez, Kherwin Taquiso, Shenelle Zeena, Kaydence Salaba, Kaitlyn Williams and Jayden Dugi.
Eighth grade A Honor Roll:
Jehron Smith, Geronie Pesodas, Hiram Bowen, Kamiah Johnson, NuvaEnMana Seweyestewa, Walela Parrish, Chelsea Selestewa, Angele Labajo, Abigail Daris, Katelyn Sloan, Kierryn Fowler and Shiala Dugi.
"Congratulations to our junior high students who worked so hard and put a lot of positive and interested effort into their school work for this academic honor," Bilagody said.
SUBMIT FEEDBACK
Click Below to: