70th annual Winslow Christmas Parade to take place Nov. 19
Originally Published: November 15, 2016 11:16 a.m.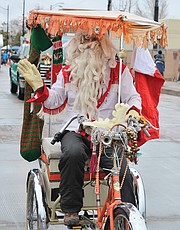 WINSLOW, Ariz. — The Winslow Chamber of Commerce and the city of Winslow present the 70th annual Christmas Parade Saturday at 1 p.m. This annual event is one of the largest parades in northern Arizona, drawing residents and visitors alike from all around the state, with as many as 10,000 attendees in previous years, many of them Native American.
The parade is always held the Saturday before Thanksgiving, according to Bob Hall, executive director of the Winslow Chamber of Commerce. This year's theme is 'A Family Traditions Christmas.'
"It was started by the Chamber of Commerce 70 years ago… as a … reminder for people to shop local and especially during the holidays," Hall said. "We all need something that is going to put a smile on our face. We all need to come together and this will be a wonderful opportunity this year to do that."
The Grand Marshall is a different person every year. The criteria for choosing the Grand Marshall is someone who has had a positive impact on Winslow. Tess Kenna was chosen this year because of her activity in the Winslow community.
"She epitomizes that," Hall said. "I love her enthusiasm and her positive attitude. It's always about what's going to be good for Winslow. She's involved in a number of clubs. She's one of our Winslow Harvey Girls. She's very active. This is a way of acknowledging the positive things that are happening in Winslow. She really gets it out there."
Guardian Air Medical air transport are based out of Winslow and they will signal the start of the parade by coming in as low as they can by helicopter and traveling the route of the parade.
"When people see the helicopter fly over, the parade has started," Hall said.
The Color Guard is from the American Legion Lori Piestewa Post No. 80 from Kykotsmovi, Arizona. They will start the parade.
There are usually about 80 to 100 entries, many from the Navajo and Hopi reservations in addition to the local entries, including the local schools on the reservations. There are Native American dancers and drummers, too.
"They really go all out," Hall said. "We don't have the big balloons like the Macy's Thanksgiving Day parade, it's a small town parade."
The activities and festivities start earlier in the day with hundreds of vendors with food, arts and crafts, jewelry, clothing and toys and holiday themed crafts that line the parade route, which covers pretty much all of the historic downtown district on both Second and Third streets.
"You have an estimated about a mile and half of vendors on four sides of the streets," Hall said. "It has become and evolved into a real social event because streets are blocked off… and everyone is walking around, visiting, running into old friends, shopping, eating. It's all under the holiday spirit. Everyone is feeling happy. It's the start of Christmas, there's Christmas music playing. I encourage people to come out."
All morning long, Santa comes to Winslow and hangs out in the visitor center, 523 W. Second Street, visiting kids and handing out goodie bags from 9 a.m.to noon. Then Santa takes off because he is in the parade at 1 p.m.
"It's a fun event, everyone should come out," Hall said.
SUBMIT FEEDBACK
Click Below to: