Tuba City students climb to new heights
Originally Published: November 8, 2016 10:20 a.m.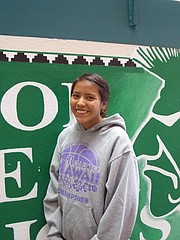 TUBA CITY, Ariz. — With some essential programs and classes, Tuba City High School students get early training and college certification, enabling them to apply for jobs quickly after college graduation with confidence and hands-on skills.
The Early Childhood Education Program and construction career classes at the high school allow students to prepare early for college with a full time career and industry standard certification in the child development profession and construction industry through Coconino Community College (CCC).
Tuba City High School teachers partner with CCC in Flagstaff, Kevin Mullins, First Things First grant manager, Maria Aurora Goatcher, Early Childhood Education (ECE) teacher and Robert Windmiller, construction careers. The CCC college credit classes mean students get a head start on an Associate in Applied Science (AAS) degree from CCC before graduating from high school.
Students can earn up to 20 hours of credit with CCC while still studying at the high school and they receive hands-on experience in both fields of study, giving them a head start on other students — and also giving them skills and confidence to take into a new job after graduation.
Ms. Catrina Herbert, a ECE instructor, and her classroom assistant Ms. Wenona Adams, have developed a Child Development Occupational lab facility located at Tuba City High School to offer students hands-on, work-based experiences to master program competencies in Tuba City's ECE classes.
Windmiller's building classroom is the size of a warehouse and is located in the vocational education section of the high school. It features more than an average construction classroom and is where students are building storage sheds for public sale. The students also construct smaller community-related projects.
Herbert is a former dual-enrollment student and is now the director of the pre-kindergarten program at Tuba City High School. She points to herself as an example of the kind of success students can have in the program.
Funding for this specialized pre-kindergarten program comes through Northeast Association for Technological Instruction and Vocational Education (NATIVE) and Joint Technological Education District (JTED).
Students in both the ECE and construction career programs are recruited through the Career Explorations classrooms, but each student is required to also test at a certain level of competency before they are allowed to apply to the CCC program. The student must also be accepted to CCC before they can start on the dual enrollment classroom schedule at Tuba City High School.
Both the ECE and construction curriculum are evaluated on an on-going basis to ensure that CCC counselors understand, promote and correctly schedule students into the required course sequence to complete the formal ECE and construction program.
With frequent advising and field visits from the CCC academic advisors, student retention for the program at Tuba City High School is extremely successful.
Goatcher mentors, advises and tutors her Tuba City High School ECE students throughout the entire school year to encourage their academic and occupational success to earn a national Child Development Associate license.
This year, one of Tuba City High's ECE prime success stories is a young student. Erykah Secody was 14 years of age when she tested and applied for acceptance at the CCC dual enrollment program.
Secody, who is now a sophomore at Tuba City High School, was accepted this past fall to start on the CCC-Tuba City High early childhood career path.
Secody, the daughter of Mishea Begay and JR Secody, was born and raised in Tuba City and has attended TCUSD for her entire academic career.

Secody also carries the distinction of being the youngest student in the Tuba City High School dual enrollment program.
How did she qualify?
At the sophomore level at Tuba City High, if a student is interested in the field of either ECE or construction, they can test for CCC dual enrollment acceptance requirements. If they pass, the student can then apply for the CCC dual enrollment program.

Secody said the program is comprehensive and offers the appropriate sequence of college courses that can lead to an Associate in Applied Science degree, which she wanted to take advantage of early to jumpstart her college education.
"I plan to stay with this program throughout my whole high school career to get those early college credits," she said, adding that by starting now in her sophomore year, she also will have the advantage to complete any additional classes if she needs them. She said the work experience has inspired her toward a teaching career and she thanks the dual enrollment program for that.
"I've really enjoyed working with our really young children at the … preschool," she said. "My mom has especially inspired me because she taught kindergarten when I was in fourth grade. Both my mom and dad help me with any class subjects that I struggle with and they are super supportive of my future work and career dreams."
There are a total of 22 students from sophomore to senior level at TCHS construction career classes under Windmiller. With 48 students in the ECE program, there are 70 students in the accelerated dual enrollment program.

Students in the construction program are: Terrell Arizona, Angelo Baca, Aliceson Begaye, Autumn Byjoe, Damon Coochwytewa, Terrell Curley, Arthur Eagleman, Norris John Jr, Richie Kaibetoney, Eric Susunkewa, Gabriel Talahytewa, Kandice Tanner, Danielle Tee, Rusty Woody, Harry Yazzie, Summer Yazzie, Tristan Begay, Stephen Talayumptewa, Hasbah Yazzie, Erinn Benally, Keith Koruh and Anthony Evenson.
Students in the ECE program are: LeRaya Black, McKatelyn Bryant, Schicasulyn Chee, Kalilah Davis, Talaya Dougi, Tori Fulton, Kathryn Honahnie, Brandon Nelson, Menisha Nez, Alyssia Polivema, Alaina Puhuyaoma, Cheyana Shirley , Brittany Skrelunas, Savanna Tracey, Kailee Adson, Leah Becenti, Emerald Begay, Marita Begay, Santana Begay, Vivica Begay, Katrina Bighorse, Eliza Brown, Erin Butler, Kirsten Canyon, Bryan Carrion, Shalby DelVillar, Feather Eagleman, Luana Gaseoma, Nizhoonii Gordy, Dylan Haley, Alexa Hatathlie, Aleta Kennedy-Silas, Erykah Secody, Sharnell Shirley, Kyra Slim, ethan Talayumptewa, Nakisha Tracy, Kalista White, Shosheena Yazzie, Mikayla Bia, Kristina Blackhair, Keisha Classay, Kylie Granger, Mya Keeswood, Kalii Maloney, Glenice Pesodas, Yuniek Sakiestewa, Paige Tsosie.
SUBMIT FEEDBACK
Click Below to: