Business Beat: The Bashas' Dine' Market in Chinle opens doors with remodel Nov. 2
Originally Published: November 8, 2016 9:55 a.m.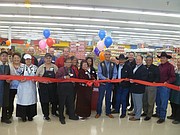 CHINLE, Ariz. — The Bashas' Diné Market in Chinle opened its doors to its remodeled grocery store Nov. 2 with a ribbon cutting, free bags of groceries, raffles and live entertainment, including the Chinle High School powwow dancers.
The grocery store is located at the corner of Highway 91 and Route 7 and it was the first store the Bashas' family opened in 1982 and the first that has been remodeled on the Navajo Nation.
The store features new décor and murals celebrating the Navajo culture, a new deli section that includes a new rotisserie oven, more warm and cold cases for the deli and several self-serve options, more tables and racks in the produce department, a new aisle that features non-edible popular products so customers can easily and quickly purchase those items, new freezers for the frozen food and meat area, a glassed in decorating station and new seating in the eating area.
There are seven Bashas' stores on the Navajo Nation and another store is planned for Sanders in 2017. Another renovation/remodel is planned for the Window Rock store next year.
The stores specialize in the needs of Navajo, Apache and Tohono O'odham customers with products such as Blue Bird flour for fry bread, mutton and wool. But the stores also include fresh produce with lots of variety.
"You could walk into a Bashas' store in the valley or the store up there in Flagstaff and you will see the same variety and the same offerings," said Ashley Schick, director of communications and public affairs for Bashas' Family of Stores. "The health of the Navajo people is a very hot topic for a lot of people and we take that really seriously. We've been working with a lot of the local organizations and the local health community to identify ways to really enhance that."
The festivities started at 10 a.m. with opening remarks from Trey Basha, president and CEO for Bashas' Family of Stores, a formal blessing by Gary Begay, tribal healer and Joe Shirley, former Navajo Nation president. The ribbon was cut by Nelson Begay, council delegate and recognition of chapter officials such as Andy Ayze, chapter president and Myron McLaughlin, vice president. Joe Wagner, Bashas' Northern Division district manager provided closing remarks.
Other entertainment included a fancy dance shawl dance/duet sing by the Many Farms Indian Club, the Rock Point Community School doing a Fire Dance Song and Dance and Miss Diné College Terry Lynette Yazzie read books to children in English and Navajo.
SUBMIT FEEDBACK
Click Below to: