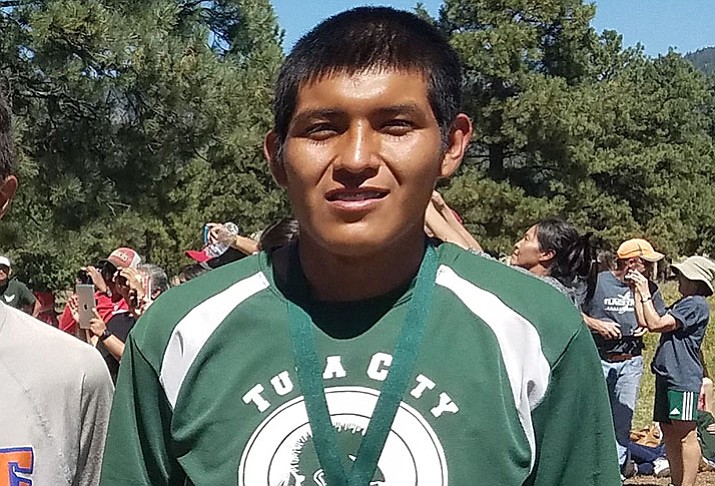 Originally Published: November 1, 2016 10:59 a.m.
TUBA CITY, Ariz. — Tuba City High cross country Warrior Vaughn Jackson just scored his first major invitational as a senior representing Tuba City High School with a final 15.52 victory at the Four Corners Invitational held at Buffalo Park in Flagstaff.
Jackson, 19, is from the village of Mishongnovi. He is the son of Sankey Jackson and stepmother Sharlene Navaho.
Under the direction of cross country head coach Arvis Myron at Tuba City High School, Jackson placed first in under 16 minutes in the race.
Jackson's stats this season so far are impressive. With his 800-meter at 2.09.72, his 1,600m at 4.50.78 and his three mile (xc) at 15.44.10 and his 5K (xc) at 15.52.88, Jackson has racked up some local media attention for his swift endurance.
Myron said Jackson's running has improved tremendously from last year to this year and he is only one of the teammates who has who has experienced a school state title win, so he knows what is required to have a successful running season.
"I have emphasized to him that whatever he did during the summer months during his freshman year, that he must apply that same mentality and training regimen this summer and fall," Myron said. "Vaugn had a disappointing season last year but he knew the reason was because he did not put in the required mileage and training during his summer off."
Myron said during this past summer, Jackson put in the time and it is showing in his running performance.
"Vaughn continues to improve each week and is responding well to workouts that will enable him to run his best at the upcoming state meet," Myron said. "I do believe Vaughn will be an asset to any running program he chooses after he graduates from high school."
Jackson's Hopi name is "Potstima," Mryon continued.
"Potstima is a studious young man, and has a bright future ahead of him not only in his running, he does very well in his academics too," he said. "I'm really proud of his hard work and effort to do the very best he can."
Jackson said that he felt really good after the Four Corner run and that once he got to the 1,000 mark, he tried really hard to stay ahead.
"Once I got to the two mile mark, I took off," he said. "Winning felt really good. It really boosted my confidence individually, but also that I was representing my home community from Mishongnovi from Hopi and my team at Tuba City High School."
Jackson has two upcoming running events in Phoenix soon and he said he looks forward to racing against one of his good friends who he also considers friendly competition, a runner named Santiago from Chinle High School.

"Santiago is fast, a clean runner but we also are good friends and it's fun to run against him and see how much we can both put out in effort and speed," Jackson said.