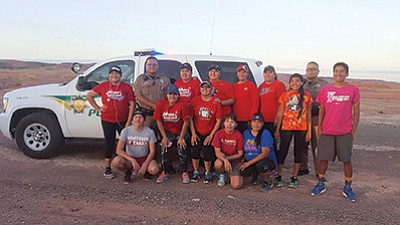 Originally Published: May 18, 2016 11:41 a.m.
TUBA CITY, Ariz. - In the days following the death of 11-year-old Ashlynne Mike of Fruitland, N.M., people from all around paid tribute to her through memorial services, candle light vigils, prayers and runs.
In Tuba City, community members gathered to remember Ashlynne who was abducted with her 9-year-old brother after school on May 2 near their home in Fruitland, N.M. Ashlynn was later found dead and her abductor Tom Begaye was charged with her murder.
Crystal Begody, 37, a long-time community member who has been running for 17 years, felt the need to organize a memorial. She wanted to do something special and since she was a runner, she helped organize a memorial run and walk that attracted more than 60 participants on May 4.
Begody used social media to advertise the memorial run and immediately received feedback from community members that wanted to do something to honor the life of Ashlynn. She explained within minutes, she began receiving support and people wanting to participate, and her posting was shared on social media more than 60 times.
"It just got bigger and bigger," she explained. "I didn't realize it was going to get that big. I just figured that it was just going to be us runners, but a lot of the community [members] showed up."
"I just put it out there and then I had a friend who saw my post on Facebook, and suggested, '[We] should come together and do a run for her,'" she said.
Like many others, Begody was saddened to hear of Ashlynn's death.
"I have three older girls, one 5-year-old boy and my little baby, a 4-year-old girl, and it is heartbreaking," she said. "Knowing that [Ashlynn and her little brother] were together in that way - it is just very heartbreaking. My little ones are close like that."
She said she thought about her own kids when organizing this event and it motivated her even more so to make the event happen in Ashlynn's remembrance.
She did not do it alone, she says. She is thankful for other community members that stepped forward to help with making phone calls, organizing a police escort, and to those who donated bottled water, Gatorade and fruits for the participants.
At the start of the run and walk, Begody reminded the participants of why they were doing the event. Most of the participants were mothers with children, and they walked about a mile and a half from the Tuba City Boarding School to the junction of Hwy. 160 and 264. The runners continued down Hwy. 160 to the dinosaur tracks-area between Tuba City and the junction of Hwy. 160 and 89 which was approximately eight miles with police escort. Water and fruits were distributed along the route by volunteers.
Begody was extremely touched by the outpouring of community support and knows there were a lot of people who were also touched by Ashlynn's death. She urges parents to keep an eye on their children and teach them about the dangers of strangers.
"Teach your kids about stranger-danger and teach them at a young age," she said. "Teach them how to fight and scream if they are ever in a situation."
"I'm a single parent of five children, and our kids are precious and our kids are our life. As a mother, it is our job to protect our children," she added. "As Diné women and as parents, protect your children, love [them], and make sure that they are safe."
Begody was happy with the turnout and appreciates the community members who participated.
"We just came together as a community and it just turned out awesome," she explained. "I couldn't believe that there was that much of a turn out. It just all came together and the community came together. I didn't really expect to have a big turn out like that. It was all done in remembrance of a precious child who was gone too soon."