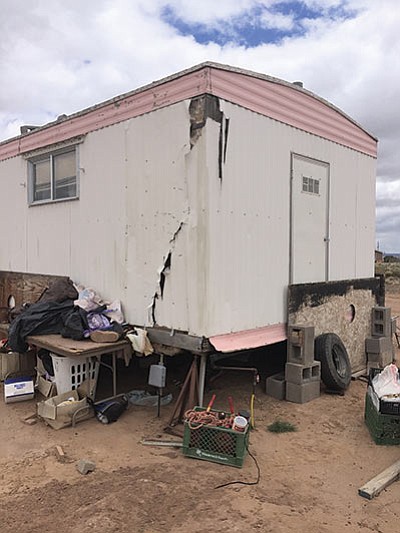 Originally Published: May 18, 2016 11:18 a.m.
SHUNGOPAVI VILLAGE, Ariz. - Many homes in villages on Hopi are far from energy efficient and poorly weatherized.
Arizona Public Service (APS) has partnered with Red Feather Development Group, a nonprofit organization, to weatherize homes on the Hopi Reservation. Work began on several homes with dramatic results and will continue through the summer months.
"I'm excited to get this project going for the village," Sandy Whitehair, community service administrator of Shungopavi Village on the Hopi Reservation, said as she invited the Red Feather weatherization team into the home of a family of five. "Thanks for this partnership. I'm looking forward to seeing how well this home weatherization project succeeds."
The head of the family home is all smiles with the anticipation of having her modest trailer weatherized through the Arizona Public Service (APS) Energy Wise Low Income Weatherization program.
The seven-foot rip in the siding of the family two bedroom mobile home happened more than a year ago, but money and the ability to repair it was a struggle for this family.
Red Feather Program Director Joe Seidenberg said the family pays more than $500 a month to heat their trailer during the winter, which is because of the high cost of propane and numerous air leaks.
APS partnered with Red Feather to work with homeowners on the Hopi Reservation because of Red Feather's ability to connect with Native American homeowners and quickly resolve small to large weatherization challenges. While reducing home energy bills is a priority, the reduction in burning coal and wood to heat homes is a priority due to the long term health effects on the inhabitants.
Red Feather makes basic interventions such as replacing insulation and installing weather stripping as a part of the APS Weatherization Program. Red Feather looks for larger needs the home may have like repairing dry wall and replacing windows and then puts a plan in place to make those repairs for a complete solution through their Native Home Repair Network program.
"This partnership with APS and the village of Shungopavi takes the Red Feather weatherization program to a new level and we couldn't be more pleased with this effort to have an immediate impact for families in need," Seidenberg said. "The APS program exponentially multiplies Red Feather's reach to help those most in need."
Eli Chamberlain, lead weatherization consultant and Red Feather crew manager said he rarely sees more than a 20 percent reduction in air leakages in most Flagstaff homes.
"An air leak on the Hopi Reservation that can be reduced by 56 percent is something to get excited about," he said.
Blower Door technology takes measurements before and after the weatherization interventions and on the Hopi Reservation, most air leakage recovery hovers between 30 percent to 75 percent improvements.
Sarah EchoHawk, president of the Red Feather Development Group Board of Directors, said she believes that Native people have the ability to transform their own communities when provided the resources to do so.
"The Red Feather approach supports this idea by helping communities build from the inside out and not the outside in," EchoHawk said. "Red Feather has been a part of that solution for over 20 years. I'm passionate about ensuring Native communities are healthy and their homes are a safe place to live."
More information about Red Feather, its Do-It-Yourself Weatherization workshops and the APS weatherization program is available at www. Redfeather.org.