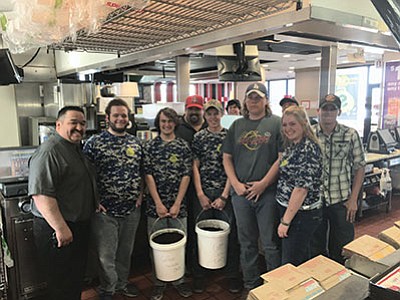 Originally Published: May 3, 2016 10:27 a.m.
WINSLOW, Ariz. - Local kids from Winslow High School are participating in a McDonald's "Good Neighbor Good Grounds" recycling program, designed to promote the re-use of coffee grounds to add nutrients to soil or compost, removing them from the waste stream.
The program is part of the launch of Arizona McDonald's "McCafe School Gardens Grow," a coffee grounds recycling initiative. McDonald's restaurants are partnering with schools statewide to recycle coffee grounds and help school gardens grow.
According to Winslow McDonald's owner, Abe Martinez, Jr., 140 schools with the Arizona Department of Education School Garden Program have already signed up and are currently using their local McDonald's coffee grounds in their gardens and composts.
"Winslow High School is excited to be a part of McDonald's coffee grounds recycling program to help our garden grow," said Daniel Tafoya, Winslow High School teacher. "Community partnerships like this are so important and I look forward to teaching my students the importance of recycling and reducing waste."
Martinez said that Arizona restaurants participating in the school garden coffee grounds recycling program expect to divert thousands of pounds of waste from going into the waste stream. According to a recent waste assessment audit by Waste Management, a McDonald's restaurant has 29.5 pounds of coffee grounds waste each day or 11,000 pounds a year.
"Our McDonald's restaurants serve a lot of coffee," Martinez said. "The opportunity to partner with schools in our communities to reduce our coffee grounds waste is a win for everyone. We hope to expand this program this spring and make our coffee grounds available daily to the community for local gardens and composts."
He added that concern for the environment is important to McDonald's as well as their customers and the restaurants practice responsible coffee sourcing where the majority of its certified coffee purchases are from Rainforest Alliance Certified farms, including 100 percent of its espresso in the U.S.
"Our restaurants work hard to reuse, reduce and recycle," Martinez said. "We also currently recycle used cooking oil in nearly all of our restaurants. Our napkins are made out of 100 percent recycled content and we are the first in the industry to have the "How2Recycle" label on many of our recyclable packages, bags and clear cups. We've also set a time-bound goal to achieve 100 percent of our packaging from certified or recycled sources by the year 2020."
Schools or community gardens interested in participating in the coffee grounds recycling program may call Rhonda Grundemann at (602) 739-8810 to be assigned to a local McDonald's restaurant.