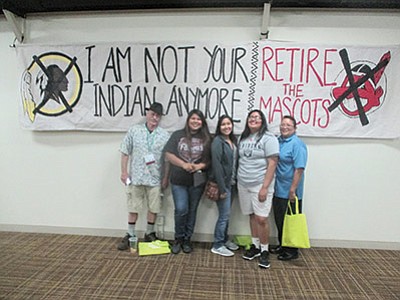 Originally Published: May 3, 2016 10:12 a.m.
LOS ANGELES - Three Hopi High media students received tips from professionals, heard moving speeches and went to Disneyland while attending the Journalism Education Association Conference in Los Angeles, April 14-17.
One even kissed a snake on the Hollywood Walk of Fame.
The Hopi High School media students appeared to be the only Native Americans at the conference attended by more than 3,800 students.
Kelly Johnson, a reporter for the Hopi High Bruin Times newspaper, said she learned new tips that will help her become a better journalist.
Each of the three Hopi High media students entered national contests. Johnson entered a writing contest in the sports category.
"The contest was intense," she said. "There were about 70 students who walked into the room ready to write. They carried notepads and pencils."
A vegan athlete gave a speech, which the 70 journalism students from throughout the country had to write about.
Storm Tso, an advanced radio broadcast student at Hopi High, entered a photography contest since there were no contests for radio. She enjoyed attending a critique session.
"They showed us different entries and how to improve them," she said.
Krienne Pahovama, also in the advanced radio broadcast class at Hopi High, entered a sports photography contest. She said attending a critique session and looking at the photos showed her that the contestants' photos were unbelievably good.
"They had all sorts of camera equipment for a great picture. They knew how to use their equipment which also gave them an advantage," she said.
Each of the three Hopi High students had to attend three sessions. Johnson's first session was about how to write a good lede to the beginning of a story, her second session was about how to be a good sports journalist and her third session was about how to organize a story and grab people's attention.
Tso's first session was about photography where she learned 10 tips from a professional. Her second session was about copyright laws and how they tie in with journalism.
"They told us about the Fair Four, which protects journalists, and how to use them properly," she said.
Tso's final session was about political cartoons and how to make them.
"It was really interesting because he showed us the science behind it and how politics played a role," she said.
Pahovama's first session was about the top 10 tips for photography.
"It was a great session because I got some great tips about how to take better photos," she said. "I am interested in photography because it's a form of art and also tells a story just like journalism. The tips helped a lot."
Her second session was about how to tell a story through your photography. She said it was interesting how the speaker got started in photography.
Pahovama said the third session didn't go smoothly because the equipment used to show them examples didn't work. The session was about how to take videos and use different lighting.
"The tips were great, but I wish that I could have seen the examples," she said.
The three Hopi High media students also went to Disneyland.
Johnson said she enjoyed Disneyland. She got separated from the other students, but made friends with other students.
"I made five new friends. We had the time to go on eight rides," she said.
Her advice to students going on this trip next year is to raise money early and work hard so they can have fun on the trip.
Tso said she enjoyed seeing a light parade and fireworks at Disneyland.
Pahovama said Disneyland was amazing.
"I loved it and it made me forget about missing my senior prom," she said. "I had never been to Disneyland before so this was an amazing experience and I'm so glad that I spent it with people that I enjoy being around. There was a light show that was amazing with so many lights and all the different characters. A fireworks show was spectacular. I've never seen so many big beautiful fireworks in one place before."
Pahovama's advice for students going on the trip in the future is to fundraise early, get prepared for the conference, know how to pack, bring extra money and have fun.
The Hopi High media trio walked the Hollywood Walk of Fame several times on the way to the hotel. There were musicians, dancers and other street performers. One street entertainer had a huge snake which he let people wrap themselves around for photos. Pahovama wrapped the snake around her and then kissed it.
The Hopi entourage also visited the trade show exhibit room where there were colleges showing what they had to offer in journalism and a wide array of games and chances for photos.
During the conference, Jose Vargas, a Pulitzer Prize-winning journalist and filmmaker, gave a speech about immigration and cultures that moved the three Hopi High media students. He is the founder of Define America, a nonprofit media and culture organization that seeks to elevate the conversation around immigration and citizenship in America.
Vargas is founder and editor of #emergingUS, a digital magazine focusing on race and identity in a cultural America. Vargas spoke about 2011 when New York Times Magazine published an essay about Vargas' experience as an undocumented immigrant. A year later he appeared on the cover of TIME magazine with other undocumented immigrants as part of a story he wrote.
Last year, MTV aired "White People," a television special Vargas produced about what it means to be young and white in today's America.
"I am who I am today because I'm one of you," Vargas told the high school journalists.
Vargas pointed to a lot of statistics, including one in seven undocumented immigrants is Korean. He stated that the highest suicide rate is found among Native Americans.
"Don't talk to me about legal if you're not going to talk about justice," he said.
Vargas said journalism is public service because it is there to liberate, to connect, not to divide.
Because of his name, many think that Vargas is Hispanic, but he is Filipino.
Johnson was impressed with how Vargas spoke about becoming a journalist and how he became a strong writer.
Tso, a senior, said she was impressed by how journalism helped Vargas find his place.
"He told us about how he had told the world his story about being in this country without papers and how he is currently trying to help other immigrants get their voice. His speech was very motivating," she said.
Pahovama said the speech by Vargas was motivational to the point that she remembered why she loves journalism.
"He talked about his struggles about being from a disadvantaged background, but that never stopped him. If anything he stated that it gave him a purpose to continue with journalism," she said.
Another strong speech was given by Julia Poe, the 2015 National High School Journalist of the Year from Shawnee Mission High School in Kansas. Now, she is a freshman at the University of Southern California.
Johnson said she was moved by Poe's coverage of teenage suicide in her community.
"She became the editor of her high school newspaper, this event happened and she was stuck because she didn't know how to cover it," Johnson said.
Poe talked about how the school newspaper went on to cover this story.
"The real story was not being told, so I needed to be brave enough to talk about it," Poe said.
Tso recounted how Poe talked about leaving journalism, but then the suicide issue caused her to go back to it so it would be covered appropriately.
"She told us why what we do is important, which made it very motivating to go out and do more with journalism," she said.
Pahovama said Poe's speech was excellent because it was nice to know someone who is not too much older than her and is so passionate about journalism.
"She (Poe) won the JEA National Journalist of the Year Award at last year's journalism conference. Now, she is able to relate to us and this young journalist is amazing," she said.
Pahovama said Poe made her feel motivated to try harder in her journalism career.