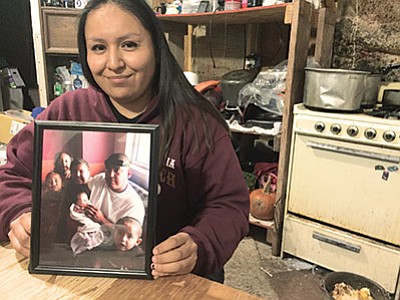 Originally Published: March 29, 2016 10:04 a.m.
FLAGSTAFF, Ariz. - DIGDEEP, a global water organization, is raising $50,000 to provide water, electricity, a bathroom and a septic system for a Navajo girl suffering from a rare digestive disorder who cannot return home until her home has running water.
Lisa Teller was diagnosed with microvillus inclusion disease at four days old. Shortly after her diagnosis, she was offered a much-needed small intestine transplant. The surgery was cancelled when the transplant center discovered that her home in Bird Springs, Arizona had no running water.
"They told us that she would have no chance of survival without running water," Lisa's mother LaTanya Dickson said.
DIGDEEP, who builds sustainable water projects with local partners and affected communities, receives a flood of information each week. Lisa's story came to the attention of the organization through several people on the Navajo Nation, whom the organization has worked with in the past.
Lisa and her family are not alone. On the Navajo reservation, nearly 40 percent of people do not have access to running water or a toilet, according to DIGDEEP, compared to non-Native populations at 0.6 percent. Dickson hauls water from miles away.
George McGraw, founder and executive director of DIGDEEP, said his organization believes all people have a human right to water and to a happy, healthy life. He said that he believes making sure that Lisa's family has running water and that she can come home is important to the organization's mission, reminding Americans that nearly a million children in the U.S. do not have clean, running water. He said Lisa's story makes that real to people.
"This is especially pressing after Flint - when thousands of children have been lead poisoned," McGraw said. "Children are often the most vulnerable in situations of water poverty and baby Lisa makes that clear. We knew that beyond meeting an urgent need for baby Lisa and her family, we could use this work to spark a larger national conversation."
That conversation is centered around World Water Day, which was March 22. McGraw said World Water Day is usually celebrated by sharing stories from far-away places but the problem is right here in people's backyard, especially in the Southwest.
"Hundreds of thousands of children like baby Lisa don't have the water they need to thrive," he said.
Lisa has spent the last 18 months, since 2014, in a medical care facility 3.5 hours away (one way) from her family, waiting for an organ. Her family, including four younger siblings and her parents, only get to see her for a few hours twice a month.
"It's not very much," Dickson said. "Not as much as we would like to."
Even with a transplant, Lisa still cannot return home without running water, electricity and her own room.
"Getting water to our home is very important to us right now because it is the only way our daughter can come home," Dickson said. "It's a requirement."
Dickson said the family has already been through a really hard process trying to get the resources they need for their daughter to return home. One thing that held them back was getting a home site lease for the land they are living on - it took about two years for them to get the lease.
"Nothing can be done unless you have this home site lease," Dickson said. "Once we got it, we went here and there and they tell us, 'oh yeah, you have a child with a disability. You brought in your doctor's statements. You're the first priority on the list - when we get to you.' When I asked how long it was going to take - two to three years is what I was told."
Dickson said she explained to the Navajo Nation and other divisions that she could not wait two to three years - if her daughter goes in and gets an organ immediately, Dickson's home still needs to meet the requirements before Lisa can return home.
"She won't be released to us until we have these things," she said. "I think that is just what people don't understand, they don't really know how hard it is to try and do this on your own. Some people are just like, 'Oh, they can wait. It (the transplant) is not going to be right away. It's going to be awhile.' They told us, it can't be done."
McGraw said hearing that people told Dickson that her family just needed to wait for clean, running water hurt his heart.
"I cannot imagine being a mother, struggling every day to provide for her children and to hold her family together because circumstances beyond her control are ripping them apart," he said. "'Just wait?' That's the answer we've been feeding the 1.7 million Americans without clean water for years."
While Dickson grew up with water in Winslow, living in the city got to be too much for her parents and they moved to the reservation when she was 13. She has been without running water since then.
"People are like, 'You should move somewhere where there is water,'" Dickson said. "We can't afford to move. Moving somewhere in federal housing or to the city, there's bills that come along with that. And right now, we can't afford that. We are still trying to get our house together."
McGraw said that questions like, 'Why don't you just move?' are culturally insensitive. He said that providing clean water internationally is essential but so is providing clean running water in the United States and that those things illustrate a powerful irony.
"They deny two blatant realities," he said. "First, people living in water poverty don't have the luxury of time or mobility. When getting clean water is a struggle, everything is a struggle. Secondly, this is 2016 in one of the most prosperous countries in the world. You're telling me that we can provide water to hundreds of thousands of people half way around the world but everyone here should 'just wait?'"
DIGDEEP's first question to Dickson when she was contacted by them was, "What can we do to help?"
Part of that help was making a video telling Lisa's story, which can be viewed on YouTube at: https://youtu.be/HaNi6i7v74U. But that is not all. If more than $50,000 is raised, the organization hopes to establish a "Baby Lisa Fund" for families in similar circumstances.
"We're just hoping that people, once they see that video, are like, 'oh, wow, these guys haven't had water their whole lives and they need it now to have their baby home with them,'" Dickson said.
The public can contribute to the campaign by visiting www.digdeep.org/babylisa.
On the site, supporters can 'sponsor' a part for Lisa, like a sink, a shower or a foot of waterline.
More information about DIGDEEP is available at www.digdeep.org.