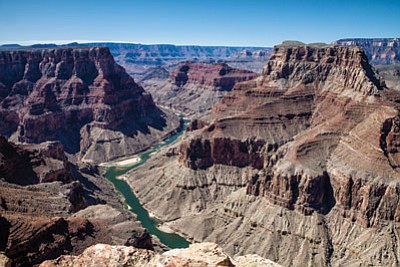 Originally Published: March 9, 2016 9:41 a.m.
FLAGSTAFF, Ariz. - A movie called "Keep it Grand" played in Flagstaff, Arizona during the Mountain Film Festival in February, calling attention again to an area along the eastern rim of Grand Canyon, where a development has been proposed on the Navajo Nation.
The Escalade development project, proposed by Confluence Partners LLC from Scottsdale, Arizona, is a 420-acre development along the eastern rim of the Grand Canyon, which would include a gondola tramway delivering visitors to the canyon floor in about 10 minutes, a river walk in the canyon with an elevated walkway and a food pavilion. The area is located about 100 miles by road from Interstate 40 and Flagstaff, Arizona.
On the rim, Confluence Partners members said there will be a discovery center that will tell stories of tribes' relationships to the canyon, a multimedia complex and an estimated 47,000 square feet of retail and restaurants, which, in the future, could include hotels, motels, a RV park and a general store.
While Navajo Nation President Russell Begaye has repeatedly said the Escalade project is not in the best interests of the Nation since he and Vice President Jonathan Nez were elected in April 2015, people still say that Confluence Partners is approaching members of the Navajo Nation Council once more with their plan for Escalade.
Delores Wilson-Aguirre from Tuba City, Arizona attended the film screening and recently wrote a letter to the Navajo Times regarding the proposed development.
"I hear partners plan to put a legislative Escalade bill before the Council during the Spring session," she said in the letter Feb. 26. "I also hear about Rep. [Albert] Hale lobbying delegates and I read about [Lamar] Whitmer pressuring Navajo leaders to approve the project."
Lamar Whitmer with Confluence Partners did not respond to a request for comment.
During a question and answer session after the film screened at the film festival, Renae Yellowhorse said that while the weight has been lifted because of Begaye's statements there was still concern that Confluence Partners has not given up.
"Our Navajo Nation Council, our elected leaders are still being [approached] by Escalade partners," she said. "It's still a fight. The easy part is over, as I say. We can wave our banners. But now, we need to work toward preservation of the area, working with our Navajo Nation policies to make sure they can protect the biodiversity [in this area]."
Wilson-Aguirre said she was grateful for the support from all over the world that she has felt and also from local groups and people who have helped along the way - a sentiment that brought her to tears.
"It seemed like there was just a few of us but after watching the movie tonight," she said. "Thank you. It has been a long fight. Today, we have a president who supported us. That is such a great feeling. As of today, we did it. So, thank you world."
Daniel Ferrara, director of the film "Keep it Grand," and Nils Aucante, cinematographer, work for the Buddhist Tzu Chi Foundation, a nonprofit that provides aid to local communities that need it most whether that is a natural disaster or medical care.
Ferrara said he read about Yellowhorse and the grassroots organization Save the Confluence, which has been working to stop the development, in The New York Times and it peaked his interest in the project.
"She's [Yellowhorse] so passionate and I think her story just really inspired me," Ferrara said.
With a producer wanting Ferrara and his team to work on films related to environmental issues, and groups, like American Rivers, which named the Colorado River the most endangered river last year, and Grand Canyon Trust advocating for protection of the area, Ferrara said that this one place was bringing lots of people together regardless of why they were involved.
"Of course, Renae and Save the Confluence, their concerns are cultural but also it is environmental," Ferrara said. "All these groups wanted to protect this area. I think I just wanted to bring all those groups together on camera and film them."
During the filming, one of the people Ferrara talked to was Ellson Bennett, pastor at the Covenant of Faith Church in Gap, Arizona.
"He was able to give me more of an economic/cultural perspective on some of the reasons why some of the people in the community do support the projects but also why maybe it wouldn't be the best idea," Ferrara said.
While there is a lack of economic development on Nation, especially in the Bodaway-Gap area, Ferrara said that as someone who is not from this area he can only listen and respect what people in the area say is an appropriate use for that area.
"Obviously people are really struggling and they're in need and the unemployment rate is tough," Ferrara said. "I met so many people who despite all that said, 'this is not what we want.' I think until that until everyone can agree that this is what they want or this is not what they want, I think it is only going to divide the community further."