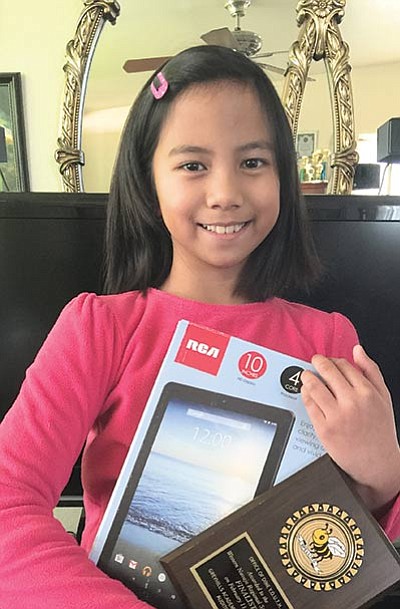 Originally Published: March 1, 2016 12:03 p.m.
TUBA CITY, Ariz. - It's a contest that students look forward to every year because winning means picking up a nice prize like a new large size tablet. The winner also gets the opportunity to represent their school and local community in a larger contest at the entire Navajo Nation level.
This year's Western Navajo Regional Spelling Bee, which took place at Greyhills Academy High School in Tuba City Feb. 11, included 12 schools locally registered with Scripps National Spelling.
The Scripps registration happens around August at the beginning of each school year and the quicker the school registers the more time the students have to practice and learn words that might be in the February contest.
This year's fourth grade spelling champion is Maria Macaraig, age 9, from Tuba City Primary School. She will now compete in the larger Navajo spelling contest in March in Crownpoint, New Mexico.
Maria is the daughter of Vilma and Jonathan Macaraig. Macaraig's teacher, Veronica Jim, helped her practice the approved word list for the contest. The two also practiced other contest word possibilities to help Maria become more comfortable with more difficult word choices.
Maria was almost eliminated when she misspelled "bronchitis" but made the final comeback win with "clandestine."
"When the announcer spoke and then read the word clandestine to me, I had to think about it awhile," Maria said. "It was kind of scary but then I thought it out and just took my time. I was so glad it was the correct spelling."
This year the Office of Diné Youth, the sponsoring agency for the spelling contest, gave prizes that included RCA 10 inch 32GB tablets for the top spellers.
Tyler Manson, Office of Diné Youth counselor and the coordinator-organizer for the local Western Navajo agency spelling bee, said the two top champions from each school will now go onto the larger Navajo Nation Spelling Bee. From there, winners will represent the entire Navajo Nation at the Scripps National Spelling Bee in Washington, DC.