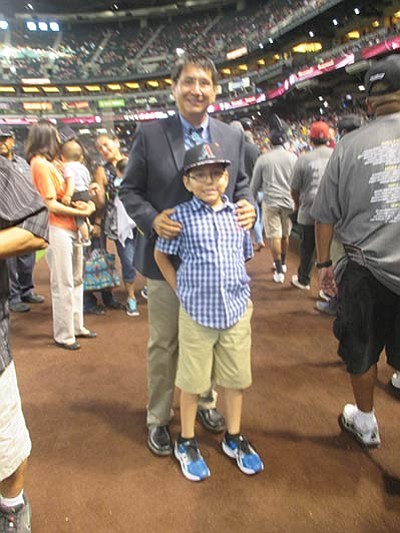 Originally Published: June 21, 2016 10:51 a.m.
PHOENIX, Ariz. - Navajo Nation Vice President Jonathan Nez praised the Arizona Diamondbacks for hosting Native American Recognition Day June 11 at Chase Field.
"It shows that they respect and honor us," he said. "We appreciate that the D-backs did this in correlation with high schools, middle schools and the youth baseball and softball teams."
Nez said he came to the game to show support for the many Navajo youth teams involved in the 18th annual Intertribal and Youth softball and baseball tournament. Two of the Navajo teams claimed championships with Shiprock Nation winning a boys baseball tournament and New Mexico Stix winning a girls softball tournament.
"We appreciate the heart of the Navajo Nation. It is a special day to see our boys and girls do exceedingly well. We're so proud of our Navajo youth," Nez said.
He said the Begay-Nez administration supports the youth. Nez is a runner and would like to see Navajo youth excel in the Olympics and college.
"We keep saying that youth are the leaders of tomorrow, but they are the leaders of today," he said.
Gila River Chairman Steven Lewis said Native American Recognition Day is a great opportunity for tribes to display their culture.
"It shows that Arizona is Indian country," he said.
Chairman Lewis said it is great that the D-Backs partnered with the tribes for the youth baseball and softball tournaments.
"For many of these kids this is a dream of a lifetime," he said.
Debbie Castaldo, vice president of corporate and community impact for the Diamondbacks, said Native American Recognition Day is one of her favorite days of the year because the D-Backs have been doing this since the franchise started. She said tribal nations have a long history of playing ball.
"A day like this is rich in celebration," she said. "It's a cool way to bring everybody together."
Castaldo noted that there was Native American music and art scattered throughout the ballpark for Native American Recognition Day.
"We have a huge turnout for Native American Recognition Day," she said.
The D-Backs have two players with Cherokee blood: both are pitchers, Archie Bradley went to the Inter-tribal and Youth softball and baseball tournament last year, so Robbie Ray went this year.
There were Native American dancers in the rotunda where folks entered the ballpark and there were also dancers on the field before the game. They were all in traditional clothing. All of the youth participants in the softball and baseball tournament were part of a parade from right field to the third baseline before the game. Arizona's tribal royalty was recognized during the parade.
Kahara Hodges from the Navajo Nation sang the national anthem and Gila River Lt. Gov. Monica Antone threw out the ceremonial first pitch.
"It's neat to see the kids faces who have never seen a major league game before. It's special for them," Castaldo said.
The D-Backs are the only major league team to sponsor a Native American softball and baseball tournament for youth. It was well attended with 1,100 participants from 74 teams from 38 tribes from five states including Arizona, New Mexico, California, Oklahoma and South Dakota. Those games were played mostly either at Salt River Field, which the D-Backs use for their spring training games, or at Papago Park.
The D-Backs awarded trophies for the first through third place teams in each category. There were divisions for players 9-12 years old and 13-15 years old. The players carried these trophies proudly during the parade on the field before the game.
Some of the proceeds from the Native American Recognition Day game was donated to Phoenix Indian Center and Inter Tribal Council of Arizona.
Castaldo called the youth tournament a top quality baseball and softball experience.
She noted that the performers ranged from the traditional dancers to a rapper. There was also a Native American cap giveaway with a Native American design on it. The caps were donated by Gila River Casinos.
One of the dance groups in the Rotunda was the Native American All-Stars from Tohono O'Odham. Jason Francisco said his dance and cheerleading group competes nationally.
"I used to be a cheerleader so I started this group in 2009," he said.
Francisco said the Native American All-Stars are the only Native American cheerleaders in Arizona to compete nationally as they have placed in the top two both in Las Vegas and at Universal Studios in Hollywood.
There are 15 youth on the squad ranging in age from five to 12 years old.
Francisco said he appreciates Native American Recognition Day because it gives exposure to all the different tribes that come together.
The Gila River Bird Dancers is a family affair with Issac Sundust providing the drumming and singing while cousin Raina Sundust is among the dancers. This group includes Native American elder women. Amanda Parka said she started teaching the youth to dance. That was back in 2008. Now, the group has 25 members ranging in age from five to 57 years old.
"Native American Recognition Day encourages us to keep going," she said.
The Gila River Dancers perform throughout Arizona.