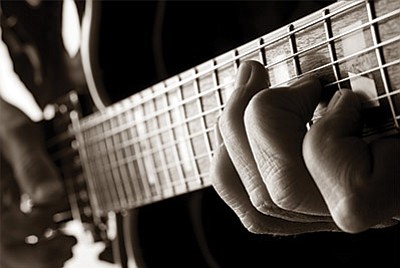 Originally Published: June 14, 2016 2:34 p.m.
FLAGSTAFF, Ariz. -Sugaray Rayford, who is headlining the Flagstaff Blues and Brews Festival June 18, has been nominated for about 15 major awards from the Blues Music Awards to the Grammys to the equivalent of the Grammy's in Canada and France.
The blues festival will be at the Continental Driving Range in Flagstaff. More information is available at (928) 606-5601.
The lineup includes Bluesman Mike and the Blues Review Band, Monkey Junk, Danielle Nicole Band, Karen Lovely, Smokestack Lightning and Arizona Hired Guns.
Out of all the nominations, Sugaray has never won, but that doesn't keep the jolly bluesman from being happy. He's just honored to have his name up there with the likes of Buddy Guy and the rest of today's best blues performers. Not to mention that Sugaray tours the world and makes a nice living off of the blues.
As Sugaray prepares for the Flagstaff venue, he just got off the plane from his tour in Spain where his band performed in Madrid, Valencia and Barcelona. In January, Sugaray's band will perform in Switzerland where they will do a live recording for his next CD. His band has also performed throughout the U.S. from Seattle to Central Park in New York.
Sugaray has performed with other blues musicians on known labels. He recently recorded with Deb Ryder and the Phantom Blues Band as well as with the Knickerbockers. However, he prefers to remain independent for his own CDs and that may be one reason he doesn't win the awards because those musicians have a lot more resources available for them.
"I enjoy the freedom to write and be heard," he said.
Sugaray enjoys blues because it's close to the gospel sounds that he grew up listening to in his household. But he also enjoys the blues because he found that the people who come out to hear the blues are sweethearts.
"They appreciate you and they are great to you," he said.
Sugaray, who previously played with Mannish Boys, plays everything from Delta to Chicgo blues, but he also includes some swing as well as the Memphis sounds with horns and backup singers.
"I don't let anyone paint me into one box," he said.
Sugaray lives in the Phoenix area, but he is touring the U.S. and Europe more often than he's home. He remembers one show in Norway where he performed with Laser Leslie and they didn't go on until about three in the morning.
"We finished and we walked off stage and got right into a boat as the sun was coming up. We were fishing until noon, and we were still in our gig clothes," he recalled. "Laser Leslie is 87 years old and still has so much energy."
Sugaray sings and entertains, but he doesn't play any instruments and he likes it that way. He said Bobby Bland was one of the greats who only sang.
"Guitarists can get away with being okay or even bad singers because it's about how well you can play the instrument," he said. "The blues itself has become a rock thing about guitar and rock trios. That's sad because that's not what the blues is. It got away from telling the story. For some reason, we let slide what's it's supposed to be about, which is the story."
Sugaray remembers when the blues was about being on the back porch and just telling folks stories through the blues. He said if the story isn't any good then the music won't matter. The story that he plans to tell in Flagstaff is that life is too short so enjoy yourself. Basically, it's a blues party with storytelling.
Bluesman Mike and The Blues Review Band, which comes on at 1:45 p.m., breathes the blues.
"I've always been a fan of the blues and learning the history of the blues because all other music started from the blues," he said.
Bluesman Mike, who does several gigs a week in the Phoenix valley and plays many of Arizona's blues festivals, is a big fan of Otis Redding, Junior Wells, Bobby Bland, BB King and Albert King.
"I grew up on that music," he said. "The blues is my gig. I love when I'm listening to it and dancing to it."
Bluesman Mike calls his music gumbo blues because like a gumbo it's a mixture of blues from many places. Some of it is modern blues.
"Like a gumbo, it's a mixture of everything that comes out great," he said.
His Blues Review Band has been together for nine years and has two CDs that are doing well.
"The main thing is having the right combination of people getting together and getting along together," he said. "We may not get along together every moment, but we never let that come out on stage. We make sure we entertain the people. We keep the personal stuff off stage, so that's what has given us longevity."
The Blues Review Band includes Sugar Bear on lead guitar, Tim Robinson on drums, Rob Thompson on guitar, Tony Mockridge on sax and Jiji Von as female vocalist and harmonica player. Mockridge and Von are recent additions, but they are all heavy hitters in the blues world. Sugar Bear played with Billy Paul who was known for the song "Me and Mrs. Jones." Robinson played with Koko Taylor and Thompson played with Bobby Womack.
Bluesman Mike said once people listen to the Blues Review Band they know that they are good musicians.
"We feed off of each other," he said.
One of Bluesman Mike's pride and joy is his band leads an annual Toy and Diaper drive each year in early December at the Rhythm Room in Phoenix so they can help poor kids and families before Christmas.
Danielle Nicole, whose band comes on at 5:40 p.m., won a Blues Music Award in 2014 for top blues Bassist of the Year.
Nicole was first nominated for Blues Music Award for Bassist of the Year in 2012, but she was up again Biscuit Miller so she wasn't surprised when she didn't win. Her friend Darlene Lopez out of Florida did the research and found that a female had never won the Bassist of the Year before. In 2013, Nicole was nominated again and this time she won.
"It was incredible to be recognized like that, a cool honor. Times are changing. The bass has mainly been a man's instrument, but Lisa Mann is killing it. It's great to see some strong women taking this on in a man's world," she said.
Nicole played in her family band Trampled Under Foot with her brothers Nick and Kris for 13 years.
Nick plays guitar and Kris play drums.
"That's when I started playing bass and fell in love with it," she said.
In 2008, Trampled Under Foot won the International Blues Challenge and started with steady touring after that including a performance in Norway and then they were on blues cruises to perform. In 2014, brother Kris left the band so Nicole was laying the groundwork for her own band. Their last show as a family band was the day after Christmas in 2014. Nicole's band started touring Europe the following year. Her family band then and now her own band performs more than 200 times per year.
"We were touring with no breaks and it was stressful," she said. "Now we will tour for a couple months and then take some time off."
Now, Nicole's brothers are in different bands and they periodically have reunion shows.
Nicole has received most of her music recognition with Trampled Under Foot so now she is working to get her band's name out there.
"Different crowds still request songs by Trampled Under Foot, and I'm okay with that," she said.
Nicole likes the blues because it's a raw form of music.
Her musical influences include Muddy Waters, The Staple Singers, Etta James and Janis Joplin, but she also liked the Beatles and Led Zeppelin.
"Your soul is speaking to the music. A guitar can massage the music for 12 bars rather than shredding it," she said. "You can convey a message without a word. You can find blues in all other forms of music."
One of Nicole's favorite blues stories was when she toured as the opening act for George Thorogood.
"He treated us really well," she said.
Nicole's band at the time had a 26 year old guitarist who was on the road with a big band for the first time. The concert in front of 2,000 spectators was catered for the musicians backstage.
"George knocks on the door and starts talking to us," she recalled.
They toured the East Coast with Thorogood for two weeks often going through snowstorms.
"George gave us great advice telling us that it's not about being the best, but about finding your hook," she said.
Nicole said Thorogood is a rock icon who brought blues into rock and roll. She had to tell the young guitar player that this was not typical treatment for an opening band and that Thorogood was spoiling them.
Nicole said she appreciates the folks who come out to see live music because this is how she supports her children.
"So give my band a chance," she said.
About a year ago, Nicole was interviewed on Dan Akroyd's Ellwood radio show.
"We got a lot new fans from that show. He takes the time to talk to everybody, not just the big bands but the up and coming bands. It just takes the right person to be discovered," she said.
Nicole's current band includes Brandon Miller on guitar, Jan Faircloth on drums and Mike "Shinetop" Sedovic on piano and organ.
The next year calls for the Danielle Nicole Band to tour Europe, the states and work on another CD.
MonkeyJunk plays blues, funk, soul and rock and roll
MonkeyJunk, which plays at 4:20 p.m., performs blues, funk, soul and rock and roll. MonkeyJunk is well known in its native Canada, but has also performed in Europe and throughout the states.
"We're excited because this is our first time playing in Arizona," frontman Steve Marriner said.
MonkeyJunk put out their last CD in September, "Moon Turned Red." Monkeyjunk has been together for eight years.
"Time flies when you're having a good time," he said.
Marriner said Europe and Canada both have greats blues musicians. He said playing in France and Germany was great but Poland was the best because they performed in a 600 year old castle.
"You can't do that in America," he said.
MonkeyJunk is a three piece band with no bass player. Marriner sings, plays baritone guitar and harmonica. Tony D plays lead guitar and Matt Sobb plays the drums.
MonkeyJunk will tour Colorado and Canada after Flagstaff, and hopes for its next CD release in the spring.
His musical influences include Muddy Waters, Howlin Wolf and the three Kings, but they take pride in also playing funk, soul and rock and roll.
"We feel the music. Some bands have an agenda, but we have been friends for 20 years and the music is the crux of our friendship," he said.
One of Marriner's favorite blues stories was a couple years ago when he played in a festival with Bob Margolin, who performed with Muddy Waters.
"Bob's a fabulous player and a great guy," he said.
It was also the last time that Marriner performed with Willie "Big Eyes' Smith. Smith was the drummer for Muddy Waters and passed on soon after this performance.
The name MonkeyJunk raises some eyebrows, but it comes from a blues phrase. Renowned bluesman Son House once said, "I'm talking about the blues and not MonkeyJunk."