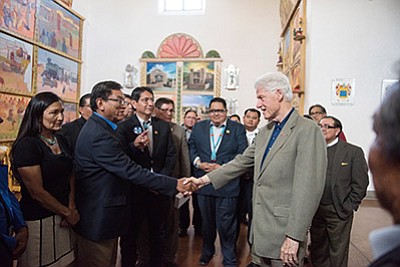 Originally Published: June 7, 2016 10:56 a.m.
ESPANOLA, N.M. - Former President Bill Clinton met with the president and vice president of the Navajo Nation May 24 and told gathered tribal leaders they would not be left behind if Secretary Hillary Clinton is elected president in November.
Clinton said he knows Native American nations need support in education and programs combating social and dependency ills.
"We will devote an enormous amount of time to developing the economic and education capacity you need," Clinton said. "We believe that tribal people have the capacity to have more economic development, which has been the case in the past. Modest investments will bring huge returns, if we do it right."
During the brief private meeting between Navajo Nation President Russell Begaye and Vice President Jonathan Nez, held before a rally at the Plaza De Espanola, Begaye told Clinton that he invites Secretary Clinton to visit the Nation's capital in Window Rock, Arizona. Clinton said he would work with the Secretary Clinton's office to see if the visit might be a possibility.
Nez said as president, Clinton brought about the New Market Tax Credit Program, which the Navajo Nation will try to use in leveraging money to pay for infrastructure projects.
The program, which began in 2000, permits individual and corporate taxpayers to receive a credit against federal income taxes for making qualified equity investments (QIE) in qualified community development entities (CDE).
The investments are expected to create jobs and material improvement in the lives of residents of low-income communities. Examples include financing small businesses, improving community facilities such as daycare centers and increasing home ownership opportunities.
"We trust that Secretary Clinton will continue to help in assisting underserved communities like those that exist on the Nation," Nez said.
Nez is also a PLEO delegate for Secretary Clinton's presidential candidacy at the Democratic National Convention. In order to win the nomination, a candidate must win 2,383 delegates at the national convention. Currently, there are expected to be 4,765 delegates at the convention.
Nez mentioned to President Clinton that he is PLEO delegate (elected official) for Secretary Clinton's presidential candidacy at the Democratic National Convention.
Nez clinched one spot out of the five delegate spots. He ran against 19 other contenders and received 139 votes to secure his spot. Other PLEO delegates for Secretary Clinton include Phoenix Mayor Greg Stanton and Tohono O'odham Chairman Edward Manuel.
In the public rally, Clinton addressed issues of alternative energy and geographical potential. Beyond this, he also concentrated on how small business have contributed to the development of new jobs.
"It's important not to forget that two-thirds of all our new jobs for the past 20 years have come from small businesses," Clinton said. "Yet still, we haven't started making small business loans in this country since the financial crisis. We've made that a priority and Hillary knows it will work. We can win this thing and keep America going. We just have to make the decision if we are going to rise together. We have to make a decision on if our future lies with bridges or with walls. I'm betting we are going to prefer answers to anger and results to resentment."
SANTE FE, N.M. - Navajo Nation President Russell Begaye said Colorado River water rights are a top priority for the Navajo Nation during a tribal leadership meeting with presidential candidate Sen. Bernie Sanders May 20.
"Water rights need to be given to Indian tribes, especially the Navajo Nation," Begaye said. "The Colorado River is a huge river that crosses the Nation and we need water rights to it."
Begaye also said uranium mining cleanup is another critical issue on the Nation as is the need for the Navajo Nation control over its natural resources.
"There has been no proper clean up and it's impacted the health of our people across generation," he said.
Begaye pointed out that the Nation has a 300-acre solar farm that produces 27.5 megawatts of electricity. Tax incentives help keep this solar farm cost effective and the president said there needs to be more.
Sanders said in many cases the federal government does not have an accurate portrayal of Native American communities. From his visits to Native American nations, Sanders said he saw high rates of unemployment, poverty and failing education and healthcare systems.
During the meeting, Sanders advocated for the establishment of a new relationship between the federal government and Native Americans. Sanders asked for Native Americans to support his candidacy.
Begaye said he appreciates the attention presidential candidates are giving to the needs of Native American nations, particularly the Navajo Nation.
"We want to make sure that any candidate that might assume office has a clear understanding of Native American issues and will embrace the government to government relationship that exists," Begaye said. "Our people wait too long to get services. We have many youth but need more resources to support them."
Begaye extended an open invitation for all presidential candidates to visit the Navajo Nation and said he would like to hear platforms that affect Native American issues from all candidates.
"There are many ongoing issues that Native Americans nations face with the federal government," he said.