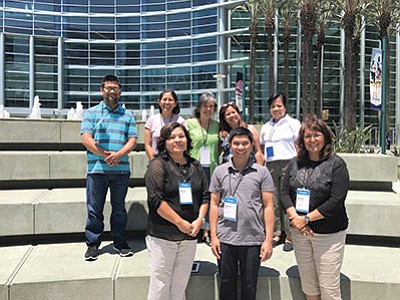 Originally Published: July 26, 2016 10:47 a.m.
TUBA CITY, Ariz. - Last week a four-day AP Annual Conference took place in the Anaheim Convention Center in California and eight Tuba City High School and Junior High staff members attended. The conference is the largest professional development gathering of the Advanced Placement Programs and Pre-AP education communities.
AP programs focuses on six specific areas critical for the attendees to take home to their school communities.
The participants learn methods to increase access and equity to the AP program that results in direct success for students.
Participants are also asked to share their successful teaching strategies and connect directly with other teacher colleagues.
The participants also discuss the 2016 AP exam performance with chief AP readers and are able to see the final analysis for the final advanced placement test scores.
School staff at the conference can explore exhibits that feature new textbooks and new classroom technology.
The participants in the AP conference also are able to earn continued education units (CEU) by attending this training session.
Administrators, principals, superintendents and school leaders are encouraged to attend these annual AP conferences, which are held in different parts of the country each summer. This is the 60th year the AP conference has taken place.
This year's participants from TCUSD were Dr. Melissa Bilagody, RayeLynn McCabe, Jonathan Macaraig, Vivian Abcede, Sonya Rojo, Vilma Macaraig, Samson Aquino and Debbie Yellowman.
McCabe is a long time Advanced Placement math teacher at Tuba City High School who also teaches regular required high school math programs.
McCabe attends the AP conference every year and gave her own assessment of what she learned in Anaheim last week.
"The AP convention helped me most not only in gaining ideas for my AP Calculus students at Tuba City High but also I learned strategies for all my regular students," McCabe said. "Advance Placement classes represent the most rigorous and challenging coursework for high schools. Going to this conference helped me improve my understanding of AP practices and the presenters shared a lot of extensive knowledge and resources."
Bilagody has worked in the TCUSD system for a number of years.
Bilagody also felt she gained information and understanding of the AP process at Anaheim.
"The AP conference was an opportunity for me to gain insight on how Administrators best support the implementation of AP programs and to hear the success stories of various AP programs across the nation," Bilagody said. "It has become clear to me that the Tuba City Junior High's role in the big picture at the AP process is to foster students' potential during their junior high years. One way in being able to do this would be by increasing the rigor of the courses offered at TCJHS which in turn can increase the opportunity for students to take AP courses at the high school with success. A second way, would be to have more TCJHS teachers attend the annual Pre-AP professional development so that teachers become aware of the cornerstone for a successful AP program, which would definitely collaborate with TCHS with the common goal of challenging students to their fullest potential."
Bilagody and the teachers plan on utilizing their shared information gained from attending the Anaheim conference to support and challenge their students in the advanced placement classrooms at both the junior high and high school levels.