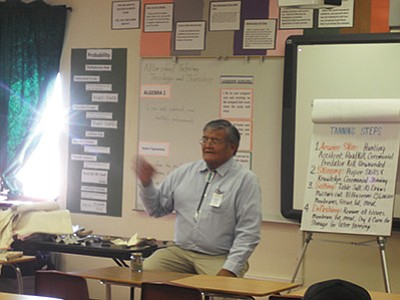 Originally Published: January 26, 2016 10:59 a.m.
TUBA CITY, Ariz. - To promote and support cultural education, Tuba City Unified School District put on a second annual district wide cultural symposium for more than 500 staff.
The theme, "Hastoi Iina Bina'nitin" aimed to focus staff members and the community they serve on the importance of respecting and implementing Native traditional idealogy and practice in the classroom for its students.
In the outline narrative written by Superintendent Dr. Harold G. Begay, he writes, "Cultural aphorism is that cultural diversity is to be viewed as a source of human strength, not a weakness of the human mind. It is in this light that we see among us today, many among us whom, with their remarkable vision, energy, courage, and optimism, have shown the resiliency to support, understand and live our cultural world view to this day. It is in this vein that we as parents, grandparents and kinship relatives, as architects and keepers of dreams and promises, must continue to link together the hopes and dreams of the past, present and future. We must continue our cutting edge interdisciplinary cross-cultural work district-wide as we seek new transformative discoveries for the future of our children is truly a calling and profound. Where there is no vision, cultures, peoples, vanish."
It has been the philosophy and mission of the district over the past few years to provide Dine' and Hopi language and cultural studies programs for its student population.
The culture friendly learning re-design and initiative is intended to empower students so they will have an applied knowledge base critical to a meaningful education and a quality life.
TCUSD believes that by reaching out to the local community and embracing community cultural wisdom and values, that its own Indigenous Heritage Language and Cultural program will benefit.
The intent of the TCUSD Native Studies program is to broaden current mainstream educational programs so that students can benefit from a more inclusive educational environment for more meaningful education.
This approach has been successful in empowering, promoting and revitalizing core traditional indigenous Native community values and wisdom for healthy growth and development.
After a traditional Native breakfast at Tuba City High School Warrior Pavilion, the day kicked off with a keynote address by Milton Chee, considered a traditional practitioner and scholar who spoke eloquently on the "Tradition Foundation of the Home." Chee shared his lifetime sense of direction and sense of belonging for Natives and how it enables Natives to determine their way of life and their own personal destiny. He discussed how this specific direction sense and sense of responsibility to one's home is directly related to the responsibility to active learning and daily discipline and respect for the world and its environment.
Four breakout work sessions took place throughout the day with more than 20 male presenters who specialize in Native traditional teachings in varied areas.
Topics offered for the staff members included basic understanding of Dine' natural law, Dine' character buliding for young men and Keeshjee and Tsidil Traditional teaching games. Hopi tribal subject matter included men and boy's roles in traditional Hopi culture and ceremonial processes. The day also included Dine' teachings, Immersion in the classroom and sharing the Dine' understanding of the environment - earth, sky, water and food.
There were also specialized areas of study like traditional horsemanship - animal husbandry, horse stories, traditional tanning processes, hunting do's and don'ts, wellness and healthy lifestyle, living in sound health to old age and four principles that can help a man achieve this valuable life goal of old, healthy age, do's and don'ts of classroom behavior, protecting and respecting the classroom learning experience, male puberty ceremony experience, the purpose of the male Kinaalda ceremony, traditional storytelling, local geological sites and discussion about traditional plants.
All of this traditional Native subject matter was meant to help the staff members have some of their daily lesson planning consider the importance and significance of traditional Native community knowledge blended with daily state required academic core curriculum. The two ideals can be education material partners teaching the whole child."
According to the TCUSD cultural program goal, design and strategy, the district wide Native Studies program is then able to transform cultural education that enables a child to "know who it is, what it is expected to do, in what way and how to relate itself to the kinship structure and neighborhood."
More information about the Native Studies program at TCUSD is available from Adair Klopfenstein at (928) 283-1183 or (928) 283-1174.