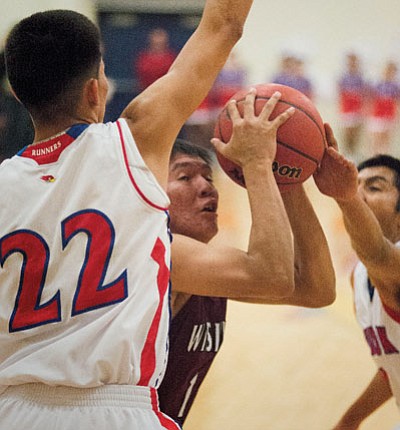 Originally Published: January 19, 2016 9:01 a.m.
WINSLOW, Ariz. - The Winslow Bulldogs defeated the Page Sand Devils 62-54 in Page Jan. 15. The win improved Winslow's record to an impressive 15-4 for the season and dropped Page's to 8-11.
The Bulldogs started strong, scoring the first 11 points of the game and speeding to a 22-7 lead at the end of the first quarter of play. Page played better in the second quarter but still trailed by double digits 37-27 at the half. Page closed to within five points but still trailed going into the final period.
Devon Yazzie led all scorers with 18 points for Page. Winslow had three players in double figures with Akeem Foster scoring 13 points, Nate Hollins with 12 and Nathan Hanley with 11 points. Page had two players besides Yazzie in double figures with Noah Larson scoring 11 points and Justin Billy getting 10 points.
The Bulldogs began a busy week Jan. 19 when they played host to the Monument Valley Mustangs and continue Jan. 20 when they play host to the Snowflake Lobos. They take on the Tuba City Warriors Friday and have a rematch with the Holbrook Roadrunners on Saturday.