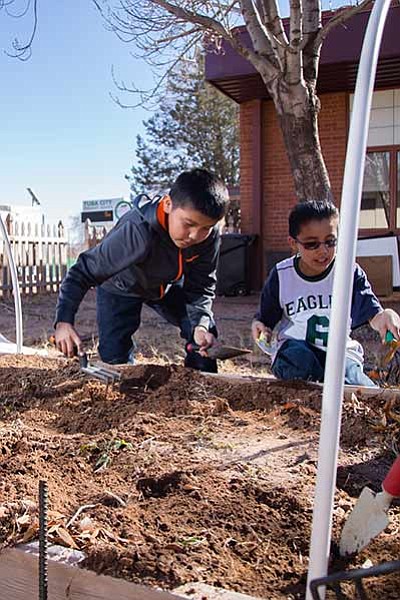 Originally Published: February 16, 2016 11:03 a.m.
TUBA CITY, Ariz. - Kids from Tuba City Primary School are getting a chance to spend quality time outside learning about gardening and nutrition, thanks to FoodCorps, a non-profit nationwide organization that connects kids to real food.
FoodCorps is made up of a nationwide team of leaders which formed as an organization in 2010. The program out of Tuba City is part of the Johns Hopkins Center for American Indian Health.
The Feast of the Future program delivers a 12-lesson curriculum that two service members, Alicia Tsosie and Will Conway, teach to kids from third through fifth grade at the school. The program includes weekly gardening and nutritional lessons. A local elder also teaches a monthly lesson about indigenous foods and culture.
"FoodCorps as a national organization does target and seek to serve resource limited communities that are struggling with childhood obesity and diabetes," Conway said. "We are trying to build a positive relationship between youth and food."
The addition of a salad bar in school cafeterias, procuring local foods for the cafeteria or taste tests to expose kids to new foods are all ways FoodCorps tries to improve kids' relationship with food, along with cooking and nutrition.
On this warm afternoon, the kids from Mrs. Jim's fourth grade class learned about different types of soil and which soil is good for gardening and why. The kids then reinforced the lesson getting their hands dirty and planting some pea seeds.
It's like recess for them, Conway said. But the reality is the kids had already learned how to make soil, through compost, and had garden beds ready to plant. They learned why planting pea seeds is good in February (because the seeds can withstand the cold weather).
Through the curriculum, the kids learn about seeds, plant parts and nutrition, which includes the five food groups.
"We provide a very broad overview of different ideas but we try to get them out in the garden as much as possible planting," Tsosie said.
An afterschool program allows Conway and Tsosie to interact with the kids a little bit more and enables the kids to do everything within the garden: planting, weeding, tilling and harvesting.
"We try to let them interact with all the types of things we need to do in the garden," Tsosie said.
The goal of the program is to increase the kids consumption of fruits and vegetables, so the garden that the kids are responsible for is a vegetable garden, including everything from a diverse vegetable farm like spinach, lettuce, kale to root vegetables like beets, carrots, turnips to summer vegetables like peppers, tomatoes and cucumbers.
"We also grow traditional foods to make sure that the foods we are introducing kids to are also reinforcing a traditional diet," Conway said.
That includes squash, melon, corn and beans.
"We'll use seeds that we find locally that have been saved by local farmers that are native to this area," Conway said. "So we'll grow a lot of traditional crops and then just your everyday crops like tomatoes, carrots and cucumbers."
The removal of a traditional diet replaced with fatty processed food has led to some of the obesity crisis in Native communities, Conway said.
"We definitely advocate for a return to a more traditional diet to improve health," he said.
Part of the curriculum allows for elders from the community to come in and teach traditional aspects: they have a lesson on a three sisters garden, a lesson where an elder teaches the Navajo words and a lesson about water. The afterschool program is called the Traditional Foodways Education Program, which is another way the kids learn about traditional foods like blue corn, how to harvest and make juniper ash and how to make blue corn mush.
"It's set up in a way so we're able to have kids listen to the Navajo language from an elder and then be able to listen again to what is said in English and do an activity related to food," Tsosie said.
While getting the community involved is a challenge, Jessica Delmar, program coordinator for Tuba City for Johns Hopkins American Indian Health, said they are working on outreach and community events where parents are contacted.
"One of the challenges in this work is we have been charged with a huge task of not only changing how these kids eat but also how their families eat," Conway said. "In order to do that and not really influence people's behavior, you need to make a really big impact. It's really baby steps that we work in."
The reality is that some families are tasked with feeding many mouths on a small budget and that can result in an unhealthy diet in some households.
"So even though our largest objective is to make a real change in how these kids eat there's just a lot of realistic barriers in making that difference," Conway said. "We're faced with that challenge every day."
There are successes though. During harvest, local schools got fresh food from the kids' garden. Kids come back to Conway and Tsosie and tell them about the different healthy foods they are trying and liking.
And on this warm afternoon, while the kids turned the soil over to get ready for the pea seeds, Ayden Carr spoke about his goal for the future.
"This is what I want to do when I grow up - have a public garden," he said. "My grandpa taught me how to garden."