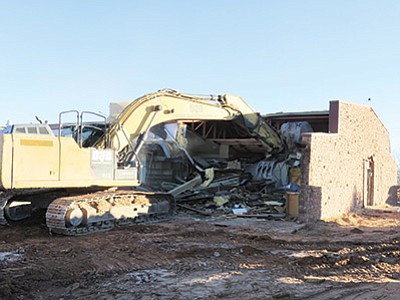 Originally Published: February 10, 2016 9:53 a.m.
TUBA CITY, Ariz. -Tuba City Unified School District (TCUSD) is in the final stages of demolishing an old school building to make way for a new kind of school that has never been built on either the Hopi or Navajo reservations in northern Arizona.
The proposed K-5 digital school will feature green technology building concepts, cloud computing, mobile learning classrooms and research pods and passive and active solar design with culturally sensitive design concepts. Outside play areas will enhance the physical well-being of students as well. The construction timeline is set for building completion and actual student use in two years.
More than a month has passed while crews take down the old Eagles' Nest Intermediate School, library, cafeteria and special education offices in a fenced area in uptown Tuba City on Fir Street.
Intitial money for the digital school came from Arizona State Impact Aid, but the money was not adequate to cover the costs of preliminary abatement and demolition. Voters approved an override bond through a county construction bond vote in 2014.
In 1999, TCUSD Superintendent Dr. Harold Begay began an educational partnership with Stanford University through the Education for Gifted Youth (EPGY) Program as well as Stanford University's Pre-Collegiate Studies on-line blended learning and Stanford's Program of Intercultural Education (SPICE).
This partnership made a new digital school necessary to continue the rigorous academic program that TCUSD currently offers its students. The old buildings, which were originally built in the 1950s and early 1960s, were not suited to 21st century digital education. Continued physical building deterioration was also a consideration.
After much discussion with the Tuba City and Moencopi Village communities about a new K-5 school building, the TCUSD Governing Board made the decision to move forward with construction in mid-2014.
In a press release last year, Begay said planning had been meticulous.
"We want to foremost address the digital divide and the equality of educational opportunity for our school children and students," he said. "We have defied conventional wisdom that we should construct a typical school building with rows of classrooms divided by hallways, building a building that met the needs of old times past. Instead we are focusing on a new building in a new teaching and learning environment that would facilitate and prepare our children for the future, 15 to 20 years from now. We currently have a generation of children who are in the digital world and critical questions arise on how we must prepare our children on how to successfully navigate and transverse this far-reaching societal and global transformation."
Working closely with the Governing Board and construction project manager Wayne Nez, Sr., architects have drafted a building design using thematic themes and guidance from Stanford University's Digital Education Future (DEF).
"It's only common sense to understand that there is a direct link to high academic and social achievement to a student's daily physical learning environment," Nez said. "To help ensure the success of our most precious resource, our children, the TCUSD Governing Board has worked diligently to help design a futuristic learning environment that will be enriching, culturally appropriate, technologically advanced and safe. The approach we are taking is unique in today's modern design concepts and all contributes to the final success of our new digital school building."
The beginning of infrastructure construction for the new school is slated for spring 2016.