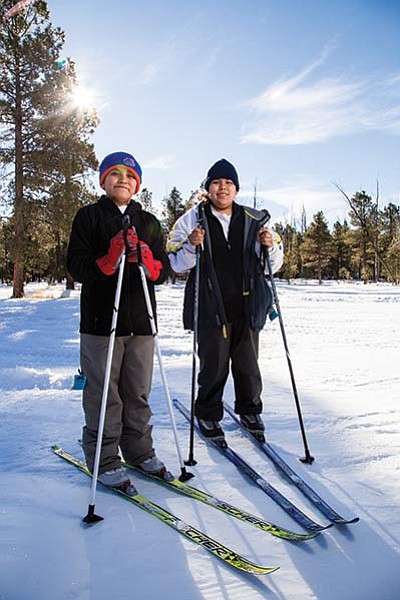 Originally Published: February 2, 2016 9:48 a.m.
FLAGSTAFF, Ariz. - On Thursday mornings, Josiah Chavez and Cedric Yazzie, two Native American students from Sinagua Middle School can be found at the Nordic Center participating in Special Olympics cross country skiing practice, coached by Carol Sharp.
Lack of snow has affected the program's numbers, said Jim Rudow, Mountain Area director for Special Olympics Arizona at the Nordic Center in Flagstaff, Arizona, Jan. 28.
"This is the first time in three years that we have been able to do cross country skiing," he said. "Last year, there was no snow, the year before there was no snow. So, because of that, Carol has had a hard time getting athlete involved. This is a great group that she has this year."
This year is also a qualifying year for the World Games, which will take place in Austria in 2017. Sharp took a student for cross country skiing to South Korea in 2013 for the Special Olympics World Winter Games.
Rudow has not heard from the state yet about what sports will get represented in the World Games. He said that because cross country skiing was represented in the last Special Olympics winter games, it may not be in the coming games.
But that has not stopped Sharp, a special education teacher and head coach at Sinagua Middle School and her group of athletes from coming out and learning how to ski.
Sharp said the goal of Special Olympics is to provide sports and training in a competition style environment for people with intellectual disabilities. Rudow also said that the competitions are a great way for the athletes to not only compete but also to socialize with each other.
"They love to participate," he said. "We had some athletes playing floor hockey, some in their 50s, some in their 60s, and they are out there...just having a great time. The most interesting thing about our athletes is not their disability, it is their abilities. It's what they can do. It's amazing to see what they can do and how much fun they have."
Chavez, a sixth grader, and Yazzie, an eighth, grader, are in Sharp's Life Skills Program at Sinagua Middle School. Their first time on skis was Jan. 15, three Thursdays ago.
Chavez said he is having fun learning how to ski and enjoying the teamwork that goes along with it.
"It's good," he said. Sharp said Chavez picked up skiing pretty fast.
Yazzie said it was fun even with it being his first time.
"I just want to say that skiing is really good," Yazzie, the older of the two, said. "I'm doing pretty good at it."
The two have learned the double pole technique, placing both poles down and pushing off with both poles at the same time, how to ski up a hill, how to snowplow down a hill and the classic diagonal slide, where the skier lunges side to side. In addition, they have learned teamwork and what to do when someone falls and some competition techniques of how to go around someone.
The competition Yazzie and Chavez are training for is three weeks away at the Nordic Center but neither is showing any nerves.
"[Just] excited," Yazzie said.
Larry Marek, a para-professional at Sinagua Middle School, helps the special education department and students like Yazzie and Chavez get to class on time. He also helps make sure they are following the rules, get their homework done and helps students stay organized and included in school activities. Marek travels with Chavez and Yazzie, even out to the Nordic Center to cross country ski.
"A typical day, I would go into the school and it's like I'm going to the same classes and I make sure they're on time, they go to lunch," he said. "As far as Special Olympics, you do seasonal based type of sports. It's a great team building. It gets their self-confidence up. It's really good."
Marek, who is Native American as well, said skiing can be sensitive for Native Americans and is not a typical sport for them.
"That was a concern for me because I thought we would be skiing on Mt. Elden and the San Francisco Peaks and that is a sacred mountain," Marek said. "I talked to my dad about it and he is very traditional (he is from the Nez-Pearce tribe in Idaho). I talked to him and we did a ceremony together at home and I said a prayer for myself, and Cedric and Josiah and the whole group really. When I found out we were actually coming here, [to the Nordic Center] it actually eased my mind."
Marek said he tries to tell Chavez and Yazzie little bits of information about Native American life.
"I remind them to be proud of who you are, to represent yourself. Be proud of who you are and where you come from," he said.
Special Olympic
Unified Sports ®
Rudow said the Unified Sports program is gaining momentum at some reservation schools and is important for Special Olympics. Special Olympics Unified Sports joins people with and without intellectual disabilities on the same team, according to the Special Olympics website. It was inspired by a simple principle: training together and playing together is a quick path to friendship and understanding.
It is a way of building unity within a school, Rudow said, which he said is spreading throughout the state of Arizona, including reservation schools and schools with many Native American students like Coconino High School and Page schools
"Like in basketball, you have three athletes and two partners on the court at one time, and they are playing together," he said, adding that the unity goes beyond playing together as the athletes get to know each other outside of sports and become and remain friends.
"It has changed the attitude of the entire school. They are more accepting of not only our Special Olympic athletes but also of each other."
Capital Day
Navajo Nation Special Olympic athletes will speak on personal experiences with Special Olympics Arizona and the impact of Unified Sports and/or Healthy Athletes has made in their lives at Capital Day, Feb. 10 in Washington D.C.
Each year, Special Olympics programs across the United States come together for one day in Washington, D.C., to raise awareness about Special Olympics, educate members of Congress on the organization's work and encourage them to support appropriations that provide funding for Special Olympics Healthy Athletes® and Project UNIFY® programs.
This year, special guests from Special Olympics Arizona's Navajo Nation will join members of Congress to discuss the impact the program has had on its members.
Navajo Nation representatives at Capital Day will include athletes Randy Washee and Shauntell Begay, in addition to Unified partners William Davis and Shantelle Kee. Other attendees will include coaches Verna Cardy, Raenna Brock, Garrett Nelson and Lucy Brown.
The athletes and partners will meet with elected U.S. representatives before they finalize their spending requests for the next fiscal year. Federal funding determines what kind of programs and support the Navajo Nation can provide its communities.
More information about Special Olympics Arizona can be found at http://www.specialolympicsarizona.org/.