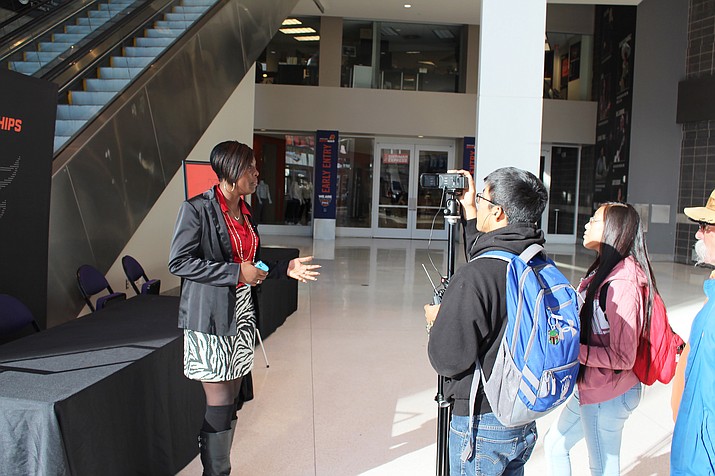 Originally Published: December 6, 2016 1:15 p.m.
PHOENIX — Nine Hopi High media students attended Phoenix Suns Journalism Day, took tours of Spot 127 and Arizona Highways as they learned about sports media, videography, magazine writing and editing.
This is the fourth year the Phoenix Suns have held journalism day to give high school students a behind the scenes look at sports media. Spot 127 is an after-school media program in the Phoenix area. Arizona Highways is the statewide magazine that focuses on nature, culture and history.
The nine Hopi High media students were Larissa "Mayor" Mariano, ShiDaisy Nelson, Elisa "Mouth" Casarez, Serena Leslie, Breanna Saufkie, Janissa Lahaleon, Tyesha Nuvayaktewa, Ronald "Slippers" Nelson and Kyle Secakuku.
The Suns journalism day included learning from Suns announcers, shooting around on the Phoenix Suns court and seeing the Phoenix Suns beat Atlanta Hawks 111-109 Nov. 30 at Talking Stick Arena. The Hopi High students also toured the ASU Cronkite School of Journalism and Mass Communication that afternoon.
Mariano, a junior radio student at Hopi High, said the Phoenix Suns journalism trip was amazing.
"I had a great time at Talking Stick Resort Arena going around and exploring the area. I had fun playing on the Suns court trying to make a half-court shot to win Suns tickets. I almost made it," she said.
Mariano said it was cool to see everything that ASU has to offer media students and how much effort they put into their work. She said the game was exciting especially watching Devin Booker.
"I was so excited that I got to watch him play in person," she said.
Mariano said going to Spot 127 was amazing because they learned about their radio programs. She said learning about Arizona Highways was also cool.
Suns announcers Tom Leander and Tom Chambers, who provide the pregame and postgame shows, talked to the students about their announcing jobs with the Phoenix Suns. Leander said announcers need to be creative and interesting.
"If you do good and you do the job you can often start as an intern," he said.
Chambers said that whether it's basketball announcing or something else that students should always strive to make their work look professional.
Leander said their announcing shows go better when they don't read off of a script. They may have something written, but it's more key words for talking points rather than something they are going to read. Chambers said announcers need to be social and he does better when he gets to move around instead of just sitting still.
Leander said due to social media that everyone with a cell phone can criticize their announcements today on everything from Twitter to Instagram.
"You need to have a thick skin," he said about those going into announcing.
Chambers said he doesn't pay much attention to social media. He said when he played basketball a couple decades back that basketball wasn't as much as an entertainment event as it is today with cheerleaders, signage and music. He said when he played basketball the Phoenix Suns had seven employees, but today they have about 100.
Leander said local TV news has also changed dramatically with the use of robotic cameras. He said more of the local newscasters now have to do their own camera work.
"They have to be versatile to write, produce and shoot their own news," he said.
Chambers said Channel 15 sportscaster Craig Fouhy writes, edits and films his own pieces.
Paul Coro, who covers the Suns for the Arizona Republic and AzCentral, has been writing about basketball for 19 years, establishing a reputation as honest and fair.
Coro told the students they should feel lucky to be taking journalism because if he had that opportunity when he was in high school he would have been out of his mind.
Coro, who graduated from Apollo High School in Phoenix, said he always wanted to do this job. He also graduated from the ASU Cronkite School of Journalism and Mass Communication. He said his coverage of the Phoenix Suns isn't always about what happens on the basketball court. He also covers the business side and what the players do off the court.
He said working for AzCentral is a 24-hour news cycle where they are constantly updating the website. During a game day, he might be tweeting all day with previews about the game.
"Working sports, you work a lot on nights and weekends, but that's not a complaint. How many of you would like to go to games, have good seats, talk to the guys after the games and get paid?" he asked the students.
Coro said as an announcer he has to act professional and knowledgeable. He said writers cannot act like fans.
"You care more about the job. If you act giddy like a fan, you lose their respect," he said.
Coro said those interested in becoming professional sports announcers should get internships, enter contests and work at getting good contacts in the business.
"I never got a job without knowing somebody," he said.
Coro said he doesn't give credence to a lot that is on the internet because a lot is not balanced or fair.
He said most basketball players are cooperative. He said former Suns player Markieff Morris told him that no one wants to talk to him. He replied that he didn't want to talk to him, but that it was his job. He said Morris just laughed and they moved on.
Rick Fowler, instructional facilitator at Spot 127 West, told the Hopi High media students about the audio, video and photography classes that they offer for students. There are usually 18-25 students in each class. The classes are two hours a day two days a week. The classes start with 15 minutes of formal instruction before students get the hands-on work they come to do.
Spot 127, which the Hopi High media students toured on Dec. 1, is also working on developing a social media site so they would have the ability to capture breaking news. This is the West side location of Spot 127 on Thomas Road. Their east side location is by ASU.
Spot 127 works with students from high schools with multi media programs and YMCA programs. Fowler said video students also need to learn camera techniques such as depth of field. They have recording booths that are totally sound proof. If a student wants to vent by going in there to scream he's fine with that.
Two senior field correspondents for KJZZ radio, a National Public Radio affiliate, are based at Spot 127. They sometimes work with the Spot 127 students, but they are usually working on their stories for KJZZ.
Fowler has a background in audio, but also teaches video, lighting and photography. He taught audio at Mesa Community College and Phoenix Community College.
"But I was drawn to high school programs where they can learn from the beginning before they get bad habits," he said.
Fowler said media is lifelong learning because the technology is always evolving. He said the media work also involves collaboration because students often work in teams. He said the idea for Spot 127 came out of the KJZZ newsroom with their youth media program.
"This will give youth a voice in their community," he said. "We can run spots on KJZZ radio so youth have a large forum with a large audience."
Spot 127 is a non-profit that gets funding from the government and private donors.
Spot 127 plans to have a 24 hour internet radio station by the end of 2017.
"It will be a fully student run radio," he said.
Kyle Secakuku, a senior videographer at Hopi High, said he wished that he had been able to take the video courses at Spot 127.
"The program is free for teenagers and looks like a lot of fun," he said.