Navajo Nation Police Chief Phillip Francisco sworn in to office Aug. 22
Navajo-Hopi Observer
Originally Published: August 30, 2016 11:43 a.m.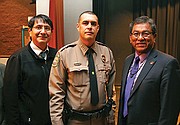 WINDOW ROCK, Ariz. - On Aug. 22, Navajo Nation President Russell Begaye and Vice President Jonathan Nez, members of the Navajo Nation Council and Public Safety Division, attended the swearing-in ceremony for the Nation's new Chief of Police Phillip Francisco.
Begaye said one goal the administration set was to hire a chief of police and after searching long and hard, they found one. Begaye said Francisco faces many challenges in the days ahead because of the size of the Navajo Nation compared to how many officers the Nation has. Another challenge is prioritizing the calls that come in and how many or few officers the Nation has to respond to the calls.
"Because we don't have enough officers on the ground, calls must be prioritized," Begaye said. "In many cases, there are more officers out there serving smaller communities than the number of officers serving the entire Navajo Nation."
Because of those challenges, bringing a police chief aboard has been difficult for the Nation, Begaye said.
"For a chief of police to step into a situation like this is a real challenge," he said. "We understand this. For us, we are saying thank you Chief Francisco."
President Begaye pledged the support of the Begaye-Nez administration in assisting the new chief.
Nez said the swearing-in was a celebration, not only for the new police chief but also a celebration of a homecoming.
"We appreciate all of our tribal members that have come home to help our people," he said.
The vice president urged the Navajo Nation to continue the teaching of respect for leadership and also for law enforcement.
"We need to help our leadership as well as the men and women in uniform," he said. "We need to instill this respect back into our people. Respect for authority is the foundation of who we are as the Navajo people."
Law and Order Committee Chair and Council Delegate Edmund Yazzie, who previously served as a police officer for 17 years, commended the Navajo Police officers who were also in attendance. He also thanked the many police officers that attended the swearing-in ceremony from surrounding counties including Navajo County, Apache County, San Juan County, Coconino County, and McKinley County.
"This has been a 'we effort' to hire a new chief of police," said Yazzie, while also noting that the Law and Order Committee remains focused on increasing salaries.
After being sworn in by Associate Justice Eleanor Shirley, Francisco said he was excited to be a part of the Navajo Nation Police Department (NNPD). He said in the near eight years the position has remained vacant, there have been many changes in communication that have impacted how law enforcement is perceived.
"There has been an increase in real time communication that had also increased scrutiny to officers," he said. "The opinions and expectations of officers has increased significantly. The Navajo Nation faces unique challenges beyond going nearly a decade without leadership."
Francisco said he is honored to accept the position of Navajo Nation Chief of Police and will serve the Nation, the communities and neighboring communities with honor and dignity.
He said he wants to improve safety across the Nation and secure the protection of culture.
"Through my experiences there are lessons I've learned," Francisco said. "One person cannot do it all. It takes a team working together to accomplish a mission. The Navajo Nation Police Department will have to work as a team to achieve its goals."
SUBMIT FEEDBACK
Click Below to: