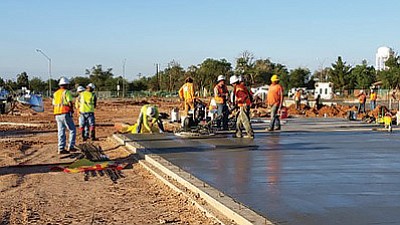 Originally Published: August 23, 2016 9:51 a.m.
TUBA CITY, Ariz. - The first big slab of concrete was poured Aug. 18 at the new Tuba City Unified School District (TCUSD) multi-purpose school among other progress in electrical and underground piping infrastructure.
The new school, kindergarten through fifth grade, will feature green technology building material, cloud computing capability throughout all buildings, classroom and research pods, passive and active solar concepts and tribally appropriate cultural design elements for the students who attend the school.
The school has been on the planning and drawing board for the past five years. A successful school bond vote last year enable the start of construction in January. The school will offer TCUSD students the latest offerings in new and green technology building advances to keep pace with what other students are offered in educational and research in other educational settings.
The old middle school building was originally built in the 1950s and was not able to provide the electrical wiring or energy needs for current student needs to use computers or cloud research on portable devices.
This is the first time that a green technology focused school building has been attempted on a Native American reservation in northern Arizona.
Masonry bricklayers will start the wall sections for the multi-purpose section of the new school building in three weeks.
According to Wayne Nez, the construction manager for TCUSD who is working very closely with the CORE Construction oversight team, the project is almost complete for infrastructure construction with the exception of any more subcontracting work.
"We have been moving along steadily and making significant progress on the foundation of the new school," he said. "CORE's knowledge of construction for a specialized digital school building like this has made all the difference. Another added bonus is that our construction crew is 100 percent Native, all hired by CORE after extensive recruitment for qualified workers and background checks."
Work starts at sunup for the school construction workers and they can be seen working all day trying to finalize the outside shell of the building and then will start on the internal structure sometime in late winter 2016.
The new school construction site is completely fenced in on Fir Street off of Main Street in uptown Tuba, just past the Tuba City Regional Health Care Hospital but people can view the progress from the street level safety fencing.
More information on the construction is available by contacting either TCUSD Construction Project Manager, Wayne Nez at (928) 283-1015 or Jessica Bateman at CORE at (602) 684-4580.